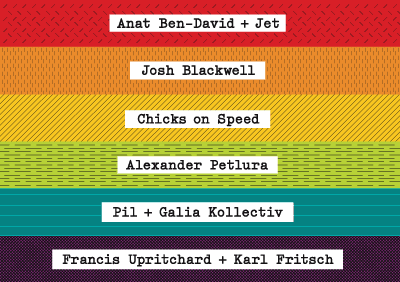 DIAMONDS FOR WORKERS

@ Kate MacGarry
95-97 Redchurch Street London E2 7DJ Tel +44 (0)20 7613 3909
3 June - 10 July 2005
Private View - 2 June

Press Release 15 May 2005

"Diamonds for Workers" brings together a group of artists generating new collaborations around the matter of costume, art, theatre and fashion.
Francis Upritchard's articulated sculpture becomes a macabre display system for Karl Fritsch's grizzled jewellery, while performance artist Anat Ben-David and portrait photographer Jet have produced theatrical imagery with an early 20th century, avant-garde aesthetic, in turn echoed by the costumes of Pil and Galia Kollectiv. Josh Blackwell's abstracted cut outs look like a flattened rail of futurist costumes, while Chicks on Speed's breast wallpaper dresses down the space. Alexander Petlura's photographs of friends and colleagues dressed up in his collection of costumes, like extras caught off-guard, afford a behind-the-scenes view of Russian history.

ANAT BEN-DAVID (b. 1970 in Jerusalem) lives and works in London. Recent performances include 'Athletica' Late at Tate, Tate Britain in April, she is also the fourth member of Chicks on Speed.

JET (born 1966 in London) lives and works in London is showing recent portraits at 1,000,000 mph in September this year.

JOSH BLACKWELL (b. 1972 in New Orleans) currently lives and works at Delfina Studios in London. Forthcoming projects include a collaboration with Mantero in Como, Italy and a solo show at Alessandro de March in Milan in Oct 2005

CHICKS ON SPEED: Alex Moray-Leslie (b. Sydney) Melissa Logan (b. New York) Kiki Moorse (b. Munich) met at art school in 1997 and have toured the world together as a band since then. Recent art projects include: A Cultural Catastrophe, Palais de Tokyo, Paris, 2004, It's a Product Deitch Projects, New York, 2004, Atelier Cos Kunstverein Wolfsburg, 200
PIL AND GALIA KOLLECTIV (b. 1975 + 1976 in Jerusalem) live and work in London. They curated DaDaDa: Strategies against Marketecture, at temporary contemporary gallery, London in 2004 and are working on a new project Turn to the Left a fashion show by artists, at 291 Gallery for July 2005

ALEXANDER PETLURA (b. 1955 in Eastern Ukraine) lives and works in Moscow. He had a solo show at Michael Hall Gallery in Vienna last year. Petlura won the Alternative Miss World in London in 1998.

FRANCIS UPRITCHARD (b. 1976 in New Zealand) lives and works in London. Forthcoming exhibitions include The Way We Work at Camden Arts Centre, July-Sept and solo projects at Andrea Rosen Gallery and Salon 94, New York, Sept-Oct 2005

KARL FRITSCH (b. 1963 in Sonthofen) lives and works in Munich. Recent group shows include The Turnov Collection at the National Museum of Archaeology in Lisbon, Yellow Metals Stedelijk Museum, Amsterdam and Collect at the Victoria & Albert Museum, London