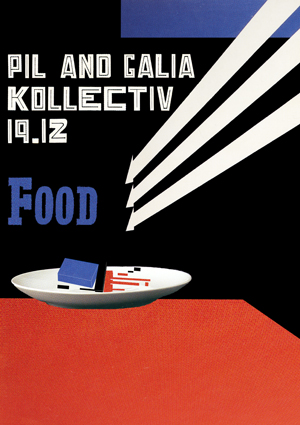 The Kollectivs serve a highly anticipated edible sci-fi-topia – a daring banquet for 60 people of experimental food created in collaboration with professional head chef Anthony McNamara. Five theatrical courses will explore new realms of food experience through geometric colour combinations and altered food states visiting dessications, compressions, domes, jellies, spray and surprises combining familiar and new flavours and food materials. A serious culinary delight combining cutting edge food technology with the Kollectivs' futuristic visions.
Accompanied by music for harpsichord specially composed for the meal by Gelbart (Berlin).

5 unique courses over 2 hours and 1 complimentary drink.

Part of Event Horizon. Materials transform.
Royal Academy of Arts, 6 Burlington Gardens.

Continuing in the neo-classical exhibition rooms and in the Event Horizon Social Club

http://www.royalacademy.org.uk/exhibitions/gsk-contemporary-season/exhibitions/event-horizon
Event Horizon is generously supported by the Henry Moore Foundation and Arts Council England.
Interview about the event here.

Video Courtesy Fritz Stolberg