7.11.07 "Aspex gallery in Portsmouth has announced the eight artists on the shortlist for its biennial open submission, EMERGENCY³.
It's the third biennial at the gallery, which specialises in supporting contemporary artists in the early stages of their career. The shortlisted artists and collaborators are Paul Becker, Jennifer Douglas, Pil and Galia Kollectiv, Jock Mooney, Magali Reus, Benjamin Senior, Dolly Thompsett and Cathy Ward and Eric Wright. Their work will be showcased in EMERGENCY³, running from December 1 2007 to January 27 2008, and the winner will be announced at the opening on November 30. The prize is a solo exhibition at aspex in 2008. The works in the exhibition cover a wide range of themes, from consumerism and religion to carnivalesque sexuality and war. It contains painting, prints, drawing, video, sculpture and installation.
"While EMERGENCY³ was not formally curated, the work was selected not only on its own merits but also for how it would fit together with the other chosen works," commented Joanne Bushnell, Director of aspex. "This process exposes connections between the concerns and interests of individual artists and the result is a surprisingly coherent exhibition." The selectors for the exhibition are curator Hannah Firth, Hales Gallery director Paul Hedge, artist Harold Offeh and aspex Director Joanne Bushnell. "I anticipate selecting just one artist to win the prize of a solo exhibition will be a real challenge for the judging panel," said Joanne". www.24hourmuseum.org.uk
EMERGENCY³ opens November 30.
7.10.07 October stuff:
PIL AND GALIA KOLLECTIV – BETTER FUTURE, QUAD SHAPED
(Sun 28th / 7pm / £4)
Pil and Galia Kollectiv - Better Future, Quad-Shaped
With a programme of films by Die Tödliche Doris (The Deadly Doris)
at
Cube Miocroplex
4 Princess Row
Kingsdown
BRISTOL
BS2 8NQ
UK
A short performance that pays homage to the square. This performance,
Better Future, Quad-Shaped has been taken from the artists latest film
(recently shot in Cornwall) and is a square dance routine based on a
Samuel Beckett's television plays Quad I and II, Bruce Nauman's Dance
or Exercise on the Perimeter of a Square (Square Dance) and industrial
German band Die Tödliche Doris' Tanz im Quadrat. The square dance routine,
in which four hooded figures mirror each other's movements tracing the
geometry of the stage, is taken from Pil and Galia Kollectiv's upcoming
film, the second in their Future trilogy.
Following the Kollectivs' performance will be a programme of films by
Die Tödliche Doris, whose contribution to the 1980s Berlin punk scene
and beyond has spanned many forms from music, film and performance.
Programme selected by the band's founder Wolfgang Müller.
Presented by Media Art Bath as part of The Sensible Stage a programme of three
performances by Lucienne Cole, Melanie Gilligan and Pil and Galia Kollectiv. For
more information, please visit: www.mediaartbath.org.uk
Also:
Magical Thinking
Curated by Cherie-Marie Veiderveld & Simon Reuben White
PV Friday 19th of October, from 6pm
A very special evening of Performance, installation and sonic exploration
Temperatures Oriana Fox Nick Hornby Jon Purnell Simon Reuben White Adrian Holme
Pheobe Davies The Human Separation MD Williams Clare Thornton

Open to the public from the 20th of October – 11th of November 2007
Pil and Galia Kollectiv Heidi Kilpelainen Girolamo Marri
Cherie-Marie Veiderveld Simon Reuben White Delta Newham
Matt Lippiatt Vasilis Chamam Alyce Santoro Emily Clay
Rebecca Gould Sharon Wyper Ingrid Z Ben Wilson Michelle Souter
Kyle Gregg Jussi Brightmore Leslie Barter Theo Oakheart
In psychology and cognitive science, magical thinking is described as a non-scientific causal reasoning (e.g. superstition).
Like science, magic is concerned with causal relations, but unlike science, it does not distinguish correlation from causation.
For the exhibition 'Magical Thinking' the curators were provoked by these ideas to see them as an analogy of the process of art making and the 'magical' power that artist's imbue their creations with. The artists selected for Magical Thinking share a common interest in the idea of magic as a catalyst to project the unexplainable through their work and as a form of escape to generate the magical.
Vasilis Chamam's charcoal drawings of smurf like creatures involved in adult vices play on the iconic clichés of the smurf as one of naïve innocence, a state that adults try to reconstruct through the escapism of adult pleasures. The smurf becomes the unobtainable token of youth that each one of us would like to return to. Similarly Emily Clay and Rebecca Gould's art harbors a fairy tale like quality that attempts to rekindle a lost magical childhood. Delta Newham's installation of a fairy tale tree swing invites the viewer to engage in a childlike fantasy that would only previously been experienced through stories at bed time.
Chewing gum painter Ben Wilson, performance artist Claire Thornton and sonic experimentalists The Human Separation all make work that finds the most extraordinary ways of breaking the constraints of their chosen medium. Ben Wilson's canvas is the most common yet regularly ignored and reviled aspect of modern times, the discarded, squashed, chewing gum that adorns every public space and pavement. By placing his intricate and colourfull miniature paintings on these unusual surfaces Wilson creates subliminal vantage points within the social framework of the urban outside that though easily missed, once stumbled upon open up new perspectives.
For Magical Thinking's launch night of live art, Claire Thornton invites members of the audience to compete against each other via sewing machines. Two sewing machines are placed within the performance area. At the blow of a whistle the machinists are instructed to sew their way through an extensive paper sheet displaying a drawn route of the racetrack, the punctuated dots formed from the needle of the sewing machine create a record of the journey and also a graph of the exciting pursuit of winning not dissimilar to a child's sports day, the resulting scroll of dotted routes down fictional streets become totem poles in remembrance of the determination of the human ego.
Likewise The Human Separation turn the function of musical instruments on their head, by creating a troop of DIY robot musicians built from everyday objects. These artists are taking the concept of Magical Thinking to see beyond the original function of an everyday object; by intentionally creating a space between instrument and player they give up the role of creator to one of chance. These metallic homunculi become surrogate players in a performance of two halves, that of the builders of the machines and the chance action of their construction.
For some artists in Magical Thinking, identity and fantasy expose a world of concealed narcissism. Pil and Galia Kollectiv, HK119, Girolamo Marri and Cherie-Marie Veiderveld use personal fantasies as a way of conveying the imagined self within a magical landscape, conveying insecurity and power at the same time. For these artists magic becomes the art, which in turn becomes a platform on which further fantasies are built.
ELEVATOR @ Mother, Queens Yard, White Post Lane, Hackney Wick, London, E9 5EN. Open Thurs-Sun 12.00-18.00
Tel 0772 419 5479 www.myspace.com/elevatorgallery www.motherstudios.co.uk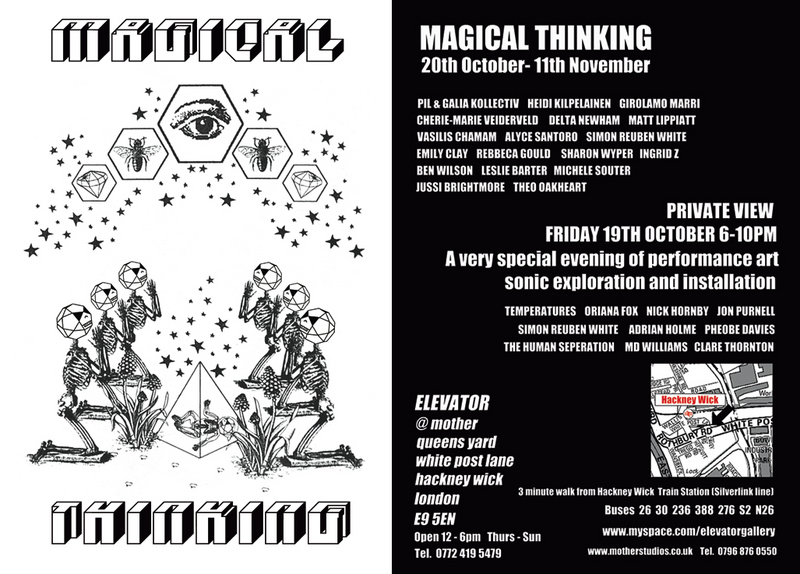 4.9.07 Asparagus: A Horticultural Ballet has been shown in A Lot Ment, an event in Portsmouth, organised by Alex Lockett of the aspex:EXPLORE team. An afternoon of contemporary art, performance and poetry on association allotments in the city, featuring artists David Blandy, Marcus Coates, Pil and Galia Kollectiv, The office of Experiments, Frog Morris, Jeremy Willet, Jenny Driver, James Ferris, Jon Adams, Tracey Ward, Roy Brown and Markus Lloyd. Pictures from the event are here.
21.8.07 Upcoming NYC show:
FOREIGN BODY(ies)
New York, NY: FOREIGN BODY(ies) is an annual exhibition in New York produced by Cottelston Advisors of work by emerging artists who studied in the MFA Programme at Goldsmiths University of London. Goldsmiths is one of the most competitive Art Practice Programmes in the world, its alumni are critically center stage and have set the pace internationally. The show will be held from August 29 th through September 22 nd at White Box, 525 West 26th Street.
"Given the reputation of Goldsmiths, it seemed natural to introduce the fresh views of these talented artists to the New York art world." Michael Sellinger, Cottelston Advisors.
FOREIGN BODY(ies) asserts the idea that 'originality' is a foreign body that questions our assumptions of art and its cultural significance.
The exhibition will include installations by artists working in painting, sculpture, photography and video. For many of the artists, this will be the first time their work will be exposed in New York, making this a must-see show for the art world. The exhibition is being curated by Gerard Hemsworth.
Artists: Eric Ayotte, Diann Bauer, Amanda Beech, G. L. Brierley, Justin Brown, Pil and Galia Kollectiv, Lindsay Seers, Shaan Syed and Systems House. (For images, please go to www.cottelston.com )
Location: White Box, 525 West 26th Street.
Dates: August 29 th to September 22 nd .
Opening: Thursday, September 6 th , 6pm-8pm.
Gerard Hemsworth is the Professor of Fine Art and Director of MFA Art Practice at Goldsmiths.
Michael Sellinger created Cottelston Advisors to provide art advisory and exhibition production services.
Beverages provided by Christiania Vodka and Grolsch.
For more information, please contact: Michael Sellinger, 917-514-7007, msellinger@cottelston.com or go to www.cottelston.com .
14.8.07 This Saturday we will be hosting a YouTube marathon at the Showroom Gallery from 14:00 – see details of this and other events below...

The Showroom Talks: I can't live without...

Saturday 18 August

From 12.00 hrs

Specially devised PowerPoint presentation by Frances Stark

8 hour long installation by Stuart Bailey

New work by The Hut Project

Lawrence Weiner reveals what he can't live without

Publish and Be Damned collaboration


Video work by Anne Tallentire



New work by Dan Griffiths


Launch of Dot Dot Dot magazine issue 14


From 14.00hrs

Pil and Galia Kollectiv host a YouTube Marathon, featuring selections by Anat Ben-David, Mikko Canini, Bridget Crone, Victor Jakeman, Joey Lewis, Suhail Malik, Miss AMP, Tai Shani, Jon Trayner, Joe Walsh and Angus Wyatt.


At 16.00hrs break for 'Non-essentialism'

Discussion led by Andrea Phillips focusing on the value of excess, citing Derrida, Reclaim the Streets, Situationism, Marx, Deleuze and Bataille as historical proponents.


End of day refreshments

I can't live without... is a one-off series of live events, screenings and a changing exhibition taking place at The Showroom across three Saturdays from mid-August to early September 2007. I can't live without… aims to address the view that 'the non-essential is the most essential component of contemporary art'[1] by examining attitudes towards the essential and the non-essential in contemporary practice.

A selection of artists, writers, theorists and curators new to The Showroom as well as those with an existing relationship to the gallery are asked to contribute to the project by considering what, when it comes to making work, they can't do without. Over three weeks during the late summer the gallery will become an active space for the trial of new thinking and emergent working processes reflecting the gallery's role as a seedbed for bold new practice and experimentation.

Respondents include; Jesse Ash, Stuart Bailey, Mark Beasley, Dave Beech, Bernd Behr, Stella Capes, Mike Cooter, Kit Craig, Dominic Eichler, Electra, Ruth Ewan, Liam Gillick, Tommy Grace, Dan Griffiths, Hardcore is More Than Music, Emma Hart, The Hut Project, Pil and Galia Kollectiv, Publish and Be Damned, Lisa Lefeuvre, Kate Owens, Andrea Phillips, Hannah Rickards, John Sealey, Mike Sperlinger, Frances Stark, Anne Tallentire, Lawrence Weiner, Ian White and Tom Woolner.


Saturdays 18 & 25 August and 1 September

Opening times 12.00 – 20.00hrs


For further information contact Shama Khanna at the gallery on 020 8983 4115. Alternatively please refer to www.theshowroom.org for I can't live without... programme updates.


[1] Quote taken from 'Factories in the Snow' a talk by Liam Gillick given at the Frieze Art Fair 2006.


The Showroom is financially assisted by Arts Council England, London Office.

31.7.07 The Projection Gallery.com with V22 Gallery is proud
to present
Action!
13 artists' films
Thursday 2nd - Sunday 5th August

Thirteen contemporary artist?s films selected from the
Projection Gallery collection, alongside related
works. Featuring works by Kate Pelen, Melissa Rancho,
and Evangelina Basdekis.
Get ready for Action! A collection of artists? short
films exploring processes, movements and interventions
to create film. Presenting intriguing responses to the
challenge of an artist as a performer and activities
as film, they question the limits of relevant
strategies.
Curated by The Projection Gallery.com team of Bill
Howard, Jay Patel and Sophie Gordon, the artists are
accomplished yet rising talents from the international
and growing collection. Action! is the second in a
series of showreels prepared for screenings both in
the UK and in Europe presented at V22 Gallery.
George Baker - Evangelina Basdekis - Matt Blackler -
Brian Block - Louise Colbourne Jan Hackon Eriksen -
Dave Farnham - Matthew Girandeau - Sophie Gordon -
Patrick Gould - Anne Guest - Bill Howard - Pil and
Galia Kollectiv - Moon Na - Ella Nordstrum -Kate
Pelen - Karl Price -Melissa Rancho - Lucy Smith
Private view Thursday 2nd August from 6pm.
Featuring live actions by Ella Nordstrum
live audio by Konstruct and The Editor.
Opening hours 12pm-6pm Fri - Sun.
10-16 Ashwin Street, Dalston, London E8 3DL
www.theprojectiongallery.com
www.v22ashwinstreet.com
23.7.07 We will be in conversation at Camden Arts Centre, Wednesday 25.7.07 at 19:30 with

David Cotterrell
Claire Hooper
Shahin Afrassiabi
Mustafa Halusi
and Sally O'Reilly
The object of the evening is to investigate our relationship to modernism
and think about what it means to appropriate these aesthetics.
12.7.07 Blood and Xerox and Europe After the Rain will be screened at the Enso-Darklight Open Air Experimental Cinema in Galway on the 20th of July (from 23:00).
27.4.07 Asparagus: A Horticultural Ballet is travelling to Canada:

on May, 12 2007 at Société des arts technologiques [SAT]
1195 boulevard Saint-Laurent, Montreal, Quebec

La biennale de Montreal presente: Asparagus: A Horticultural Ballet by:Pil and Galia Kollectiv Music by Les Georges Leningrad (2000-2007) + Peaches, Carole Pope, Lesbians on Ecstacy, PaperRad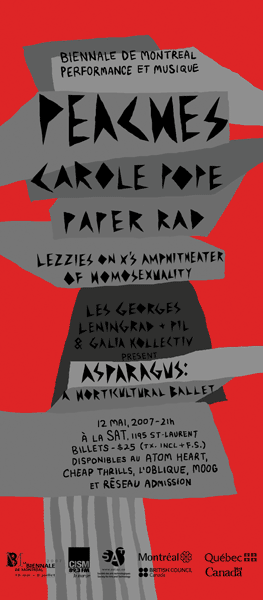 Read more about the project in this month's Art Monthly

12.4.07 The Future for Less opens at Gallery for One, 5 Scarlet Row, Dublin, on Firday 20.4.07 at 18:00.
12.3.07 We will be in conversation about Asparagus: A Horticultural Ballet with Bill Drummond at The Showroom Gallery this Saturday, 17.3.07, at 15:00.
17.2.07 Asparagus: A Horticultural Ballet will be premiered at Conway Hall live with Les Georges Leningrad on the 6th of March at 21:00. Tickets available from The Showroom Gallery. Exhibition at The Showroom opens the next day (7.3.07). Read a preview here.


3.2.07 Take Over residency reviewed here and here.
27.1.07 Kollectiv DJ set at Water Rats on Saturday Feb 3rd:
Brainlove Club IV
Lineup: The Walk Off, Nervous Testpilot, Team Brick, A Scholar & A Physician
Date: 03/02/2007
Venue: Water Rats, 328 Grays Inn Road, Kings Cross, London WC1X 8BZ
Price: £5 advance / £6 door
Link: www.brainloverecords.com - Brainlove Records
Info: 1 more band tbc /// DJ sets from It Sounded Better In My Head DJs and Pil+Galia Kollectiv (Plan B) ///
see invite.
21.1.07 We have been selected as artists in residence by the Pump House Gallery as part of their Take Over residency programme and will be working in the gallery on our upcoming asparagus ballet. The closing party and informal exhibition will be on the 13th of February, 18:00 - 20:00. See invite.
News from 2006 is archived here.
News from 2005 is archived here.