14.12.08 On Friday 19.12.08m, we will be hosting a Sci-Fi Banquet at the Royal Academy of Arts:

Pil and Galia Kollectiv's 'Sci-Fi Banquet'

Friday 19 Dec, 8-10pm.




The Kollectivs serve a highly anticipated edible sci-fi-topia – a daring banquet for 60 people of experimental food created in collaboration with professional head chef Anthony McNamara. Five theatrical courses will explore new realms of food experience through geometric colour combinations and altered food states visiting dessications, compressions, domes, jellies, spray and surprises combining familiar and new flavours and food materials. A serious culinary delight combining cutting edge food technology with the Kollectivs' futuristic visions.
Accompanied by music for harpsichord specially composed for the meal by Gelbart (Berlin).

Booking essential.

Tickets cost £35 per person + £3 booking fee, which will include 5 unique courses over 2 hours and 1 complimentary drink. Further drinks can be purchased at the bar.
To book please follow the PayPal link below or email psychoplasmics@yahoo.co.uk about alternatives.

Please note that this meal does not have a vegetarian option.





This event is part of Event Horizon. Materials transform.
Royal Academy of Arts, 6 Burlington Gardens.

Continuing in the ne0-classical exhibition rooms and in the Event Horizon Social Club

http://www.royalacademy.org.uk/exhibitions/gsk-contemporary-season/exhibitions/event-horizon
Event Horizon is generously supported by the Henry Moore Foundation and Arts Council England



20.11.08 We will be showing new work in Art and the New Town, from 11 - 15 December in Harlow, part of "a series of temporary visual art projects and public discussions for Harlow, featuring artists: Diann Bauer, Amanda Beech, Chris Evans, Alison Gill, Pil & Galia Kollectiv, Wayne Lloyd, Mike Ricketts, The Serendipity Group, Roman Vasseur".

Also, new podcast related to Svetlana on ArtSheffield.



3.11.08 New film, Another Proof of the Preceding Theory, commissioned by Artists in Archeology and The Open Eye Club, will be screened on November 20th at Tramway in Glasgow:

The Open Eye Club
presents 'The Human Arc' at Tramway, Glasgow.

Formed in 2005 by Glasgow based artists Karen Cunningham & Leonora Hennessy
The Open Eye Club is a series of one-off video/art events which promote, showcase and
commission video and related artworks including, installation, animation, painting,
photography and performance. Often working with artist that do not usually make video
works and by aligning the work of local, national and international artists The Open Eye
Club events actively aim to foster an environment where the viewer/audience feels they
are not just being shown work but that they are sharing in it.

Following the success of 'bazaar' in 2006, The Open Eye Club have been invited back to
Tramway to curate another event. 'The Human Arc' will be the 8th event by The Open
Eye Club and is described by Cunningham and Hennessy as being: 'a set of conditions; the
selected artists, the specific space, the context of a unique event, via which the artists
are enabled and encouraged to work in a different manner or to experiment with
un-realised projects. Therefore the path connecting one artwork to another may not be
direct but it will be curved, with ideas, images and forms eclipsing and reflecting back
upon each other'.

For 'The Human Arc' The Open Eye Club are commissioning 7 artists to make new
work specifically for the event. Glasgow based artists, Sara Barker, Scott Myles and
Calum Stirling will be making new artworks that will be physically installed in the space
and 4 artists from outside of Scotland; Maze de Boer (Amsterdam), Geoffrey Farmer
(Vancouver) Martin Healy (Dublin) and Pil and Galia Kollectiv (London) are being
commissioned to make video works to be screened in relation to the installed works.

An essay by Neil Mulholland has been commissioned to accompany the event and will
be available on the night.

The commissioning of these works has been made possible by funding from the
Scottish Arts Council.

EVENT DETAILS

Date: Thursday 20th November
Venue: Tramway (T4) Glasgow
Time: Doors Open: 7:30pm - Screenings commence: 8:00pm
Free – all welcome

For further information contact: theopeneyeclub@gmail.com

plus, DJ set at the Macbeth:
GOODBYE, FAITHFUL KINGDOM! PRESENT TENEBROUS LIAR, THE MONROE TRANSFER
Smoke Fairies and DJs Pil and Galia Kollectiv

LONDON: The Macbeth
MON 10TH NOV, 2008 8PM


Also, we are chairing a discussion at the Horse Hospital on Wednesday the 19th of November, from 19:30, related to the 30,000 Years of Cryptomnesia exhibition:
30,000 Years of Cryptomnesia
Exhibition: Saturday 8th November - Saturday 29th November, 12-6pm, Mon-Sat
Private View: Friday 7th November 7.30pm
Sophie Carapetian
Andy Healy
Victor Jakeman
Joseph Lewis
Patrick Moran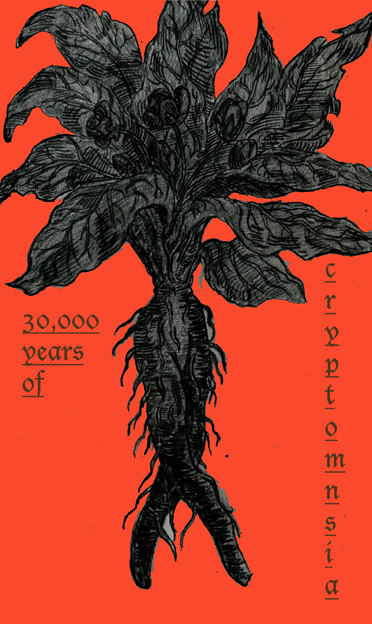 EVENTS
Wednesday 19th November: Cryptomnesia Symposium
The artists discuss the source material for their work in an open
forum, chaired by Pil and Galia Kollectiv. No pre-booking required.
7.30pm - FREE
Friday 28th November: Rough Music
Joseph Lewis will play the ancient "anglo-celtic zither instrument",
the Spiritcatcher. Black metal band Whitby Bay comprised of Victor
Jakeman and Patrick Moran will also perform.
7.30pm - FREE
30,000 Years of Cryptomnesia is a collaboration between 5 young artists that work together to create environments - structures that act as a cohesive medium within which they display their work; beautifully crafted prints, instruments, costumes, manifestos, films and objects, mythological commodities, time bandit vessels, folky, pagan, black metal artefacts. Exotic and earth-like. Not to be missed!
"Come on in, dear viewer, to where the exhibition is the best part of our day.
Normal people, people who walk the street, cannot understand this exhibition. Because, when this exhibition swells; there's not going to be room for anyone else but you, dear viewer, flowing with the power of the exhibition. Load the spaceship with rocket fuel, load the spaceship with the exhibition, because the spaceship is full of juice to carry it as far as it wants to go.
It starts low in the tip of your toes, in the very foundation of the maniacs. It's like euphoria. It's like a feeling, a power surge that an exhibition's never felt before. It pumps the life through the blood veins, through the delts all the way up through the neck, into the brain. A feeling that the exhibition will be reborn in the world as the strongest force in the universe. There's only going to be one that survives.
How would you feel, if your exhibition was forced by my exhibition to let another exhibition slap it in the face? How would it feel? The family that I live for only breathes the air that smells of combat. You run a pawn shop and I sell valuable collectibles. I look above the Gods, but, when they fall below the skeletons of the exhibitions past -should I jump from the highest building? Should I lay down and let the lawnmowers roll over me? Should I go to the exhibition and be troubled by it?
You've been injected with the minimum dosage of poison of the power of the exhibition. Explode off the launching pad. You're right; you don't know where the exhibition's coming from. You don't know anything about the exhibition; because it's mind-boggling to you".


30.09.08 Solo show at S1 Artspace:
"To mark the completion of their ten-week residency, S1 Artspace is pleased to announce an exhibition of new work by Pil and Galia Kollectiv.

Pil and Galia Kollectiv's practice explores the utopian discourses of the twentieth century and the way in which they operate in the context of a changing landscape of creative work and instrumentalised leisure. They are interested in the role of politics and commerce in relation to the paradigms of modernism and the avant garde. They often use choreographed movement and ritual as both an aesthetic and a thematic dimension, reading dada and the Bauhaus backwards through punk and new wave, finding new uses for the failed ideologies of the past.

In Svetlana, Pil and Galia Kollectiv present photographic documentation of rehearsals for an opera that was never performed. Written by Waw Pierogi, founder of the 1980s group Xex, little is known of the opera, only that it was inspired by Svetlana, a character from one of their songs and the daughter of Stalin, who defected from the Soviet Union twice.

A fictional Svetlana and a bogus Leon Theremin - inventor of the eponymous hands-free electronic musical instrument who was later kidnapped by the KGB - inhabit an archive of photographs from a session of stage rehearsals and location shots. Combining Svetlana's narrative with a conspiracy to create sound weapons, this documentation of theatre workshops, styled after Bauhaus drama class exercises, produces an entirely spurious story of espionage, sonic weaponry and the clash between love and ideology. The performers sport geometric military costumes, brandishing sculptural forms fashioned after the acoustic locators that preceded radar technology. These redundant locators were still kept in use as props, concealing the introduction of radar from the Germans. They perfectly capture the theatricality of military might and suggest the rhetorical force of sound or even the political power of art".

Preview: Fri 10 Oct: 6.30 - 8.30pm
Open Wed – Sat | 12 – 6pm


12.7.08 Better Future, Wolf-Shaped is being screened at the CCA in Glasgow on the 31st of July, details below: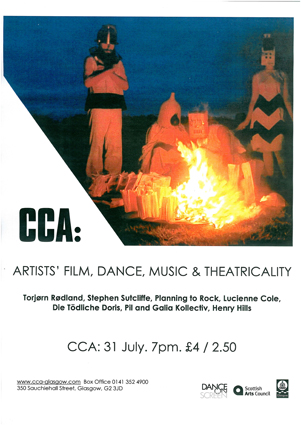 Plus, the Coelacanth Journal is being launched on the 6th of August:
Also, Kustom Kar Inferno is included in Elevator Gallery's Zero de Conduite event on the 18th of July:
30.6.08 We are DJing with Tai Shani at the Haggerston on 4.7.08, 21:00 - late: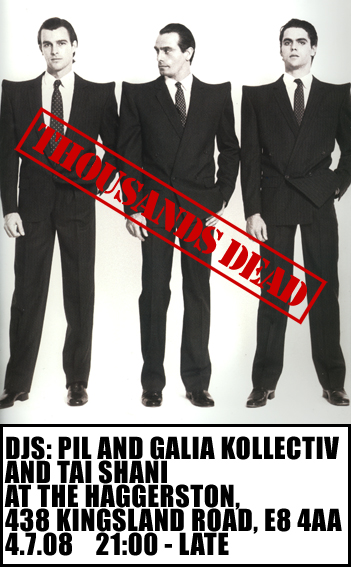 18.6.08 The Future for Less and Better Future, Wolf-Shaped will be on show at Grey Area in Brighton:
The Future So Far
Pil and Galia Kollectiv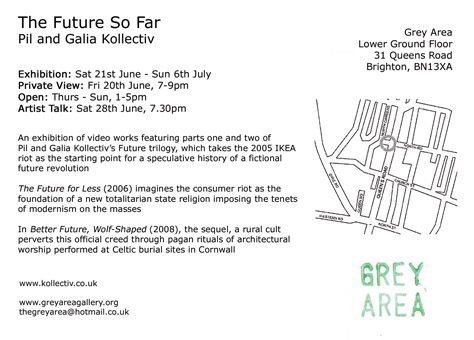 Exhibition: Sat 21st June - Sun 6th July 2008
Private View: Fri 20th June, 7-9pm
Open: Thurs - Sun, 1-5pm
Artist Talk: Sat 28th June, 7.30pm
An exhibition of video works featuring parts one and two of Pil and Galia Kollectiv's Future trilogy, which takes the 2005 IKEA riot as the starting point for a speculative history of a fictional future revolution.
The Future for Less (2006) imagines the consumer riot as the foundation of a new totalitarian state religion imposing the tenets of modernism on the masses.
In Better Future, Wolf-Shaped (2008), the sequel, a rural cult perverts this official creed through pagan rituals of architectural worship performed at Celtic burial sites in Cornwall.

Grey Area
Lower Ground Floor
31 Queens Rd
Brighton
East Sussex
BN13XA
www.greyareagallery.org
thegreyarea@hotmail.co.uk

23.5.08 We are staging a new performance piece at the Berlin Biennale:

No Haus like Bau at HAU
Pil and Galia Kollectiv

14.06.2008
19:30 - 21:00
Russian Constructivist theater of the 1920s portrayed "industrial man" as part of a bio-mechanical symbiosis with the factory. For the 5th berlin biennial, Pil and Galia Kollectiv stage a new theatrical piece, a post-Fordist neo-Constructivist mime entitled No Haus Like Bau, which asks what becomes of this overidentification with the system in the wake of industrial manufacture: what would it mean in relation to the flexible ideology of late capitalism? With the boundaries between work and leisure diffused by the employment model of a post-Fordist creative industry, the critique of the mechanization of labor becomes ineffectual.

Marx wrote that revolutionary transformation borrows the slogans and costumes of the past to stage the new world-historical order so that they may part happily from the past. Incorporating a stage set based on flatpack furniture and inspired by Soviet theater design, No Haus Like Bau happily parts with revolution. Featuring eight performers, with a live score by Steven Kado (The Blankket, The Barcelona Pavilion, Blocks Blocks Blocks), the performance juxtaposes Bauhaus dance theory with the story of the privatisation of Russia and elements of Mozart's Magic Flute to forge a new mythology for the DiY consumer and the subject of immaterial labor. Through the performance, the heavy symbolism of state theatre and mass spectacle is reduced to the ergonomics of interior design to form a provisional aesthetic for a new politics.

HAU 1, Stresemannstrasse 29, 10963 Berlin-Kreuzberg, U1/U6 Hallesches Tor
Admission 11,- € / reduced rate 7,- €
Also, we are screening Kustom Kar Inferno at the Whitechapel Gallery on the 15th of June: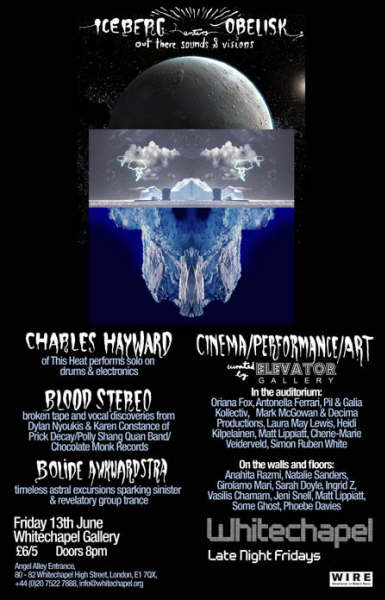 and performing Better Future, Quad-Shaped at Cubitt gallery on the 22nd of June, at 21:00:

Seven Times Two or Three
on and beneath communication

curated by Bart van der Heide and Binna Choi

Sunday 15 June to Sunday 22 June 2008
Private View: Sun 15 Jun 2008, 7:00PM to 9:00PM
A one-week long series of events featuring works and research by over 30 artists, designers, musicians and writers in the form of live performances, lectures, dialogues and appropriations.
and finally, we are in this exhibition at Cafe Gallery, opening on the same day, 22.6.08: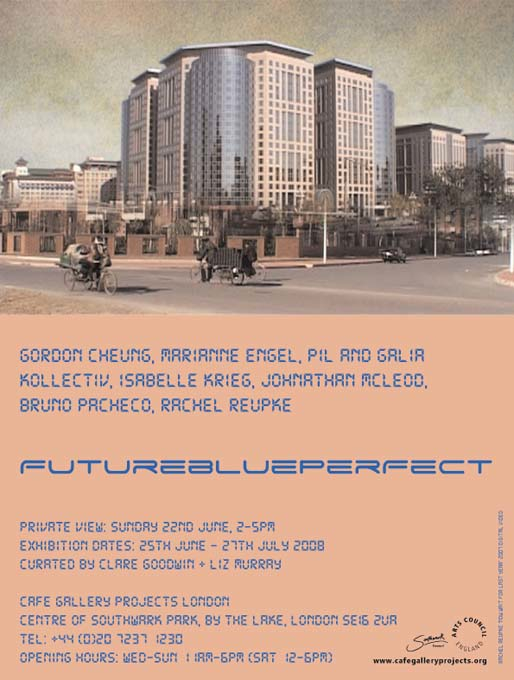 18.5.08 The Future for Less and Better Future, Wolf-Shaped will be screened at Loughborough University as part of Life Is Interesting...When You're Furious, a series of projects which mark the 40th anniversary of the wave of student protest movements that broke out in 1968, often dubbed as the 'year of the barricades'. The artists involved either respond directly to the historical events of that year or create work that further explores the theme of protest, political action and resistance:

A Staged Dissent

Wednesday 18 June 2008, 7.15pm
Leonard Dixon Drama Studio, English and Drama Department, Loughborough University

An evening of performances and films centred around the theme of protest, rebellion and revolt.

Programme:

* Gail Pickering - Zulu (Speaking in Radical Tongues)
* Pil and Galia Kollectiv - The Future for Less and Better Future, Wolf Shaped
* Oreet Ashery - Raging Balls
* Tellervo Kalleinen and Oliver Kochta-Kalleinen - Complaints Choir
* Mark Wilsher - King
* Oliver Ressler and Zanny Begg - What Would It Mean To Win?

27.4.08 The final instalment of The Institute of Psychoplasmics will take place on the 8th of May at Shoreditch Town Hall with an evening of live performance from Tai Shani and Insectoid:


THE INSTITUTE OF PSYCHOPLASMICS presents an offsite evening of live art:

Empire and Daughter Isotope + Insectoid

Shoreditch Town Hall
380 Old st.
London EC1V 9LP

8th of May

doors at 20:00, performances start at 20:30.

Tickets £4 via PayPal to psychoplasmics@yahoo.co.uk or from the Pump House Gallery; £5 on the door.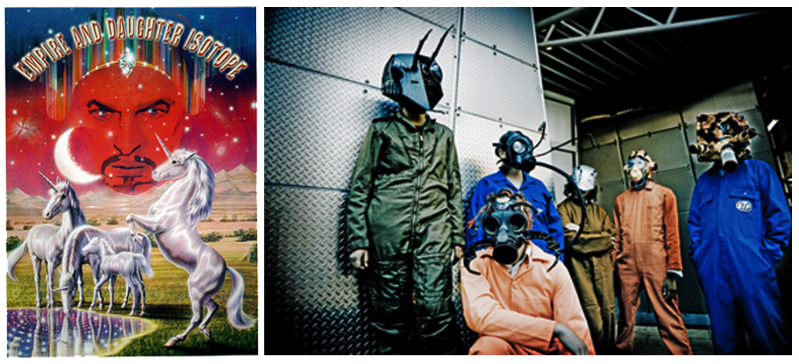 Set in the magnificent auditorium of the Shoreditch Town Hall Tai Shani's
Empire & Daughter Isotope is a ritual performance extravaganza, an Epic Synthetic Grey Magic Sacrifice and Resurrection of 12 Uncorrupted Virgins!

Starring
Mistress of all trades
Angie Reed as the Minnie Mouse High Priestess
Conducting the ceremony
While above looms the spectre of notorious Satanist Anton LaVey re-enacting his famous 1964 Jaybird Magazine poses.

With the participation of
The Forever Travelling Salesmen
Walking, Talking, Living Sex Dolls
and
The Messenger Majorettes

Featuring
A live score by the masters of doom/avant prog
Guapo
(Æthenor, Chrome Hoof, Miasma and The Carousel of Headless Horses)

From the dead the 12 shall rise, strangely animate but dead already and dead again, more than ever before, Daughters Isotope.
THEY ARE DEAD, WE ARE NOT, WE ARE YOURS

http://www.taishani.com/


For the second performance, we.assimilate, Insectoid's hive colonise the stage and execute entomological rites, exploring insect behaviour to produce exoskeletal sounds.


http://404phonographic.co.uk/insectoid/


After party at Uncle Sam's Bar, 438 Kingsland Rd., London E8 4AA from 22:00.





23.4.08 The Institute of Psychoplasmics discussion panel, book launch and Game of War workshop will take place this Saturday, 26th of April at the Pump House Gallery:

Discussion Panel, Book Launch and Game of War Workshop

Saturday 26 April 2008
12.00 - 4.oopm
Free but booking is recommended


Pump House Gallery
Battersea Park
London SW11 4NJ
020 7350 0523
pumphouse@wandsworth.co.uk

(Please note the times for this event have changed and are different to those that were previously advertised)

A discussion with Amanda Beech, Pil and Galia Kollectiv, Suhail Malik and Roman Vasseur to discuss ideas and themes explored in the exhibition and new publication.
This 112-page publication includes texts and stories by Suhail Malik, Amanda Beech, Pil and Galia Kollectiv, Gilad Elbom, Tom McCarthy, Emily McMehen, Travis Jeppeson and a popup artwork by Diann Bauer. The book is also available for £15 via PayPal from psychoplasmics@yahoo.co.uk .

This event will be followed by a demonstration of Guy Debord's The Game of War by Class Wargames using a replica of Debord's original 1977 military strategy board game.

For further information: http://www.classwargames.net/

Also, Harold Offeh's Damn! I wish I'd done that. Artists' works I wish I'd made..., which features The Future for Less, is on at Chapter:

Damn! I wish I'd done that. Artists' works I wish I'd made...

Curated by Harold Offeh

Exhibition: Friday 25 April - Sunday 4 May / Arddangosfa: Dydd Gwener 25 Ebrill - Dydd Sul 4 Mai

A selection of single-screen works by a range of national and international artists including Olaf Breuning, Doug Fishbone, Benny Nemerofsky Ramsay, Ming Wong, Mark Aerial Waller, Pil and Galia Kollectiv, Anu Pennanen and Esra Ersen.

The 80-minute show reel was inspired by ongoing dialogues that Harold has had with the artists over many years; encounters that have inspired and shaped the development of his own practice through shared formal and conceptual concerns including role play, sci-fi, social engagement, globalism, and commentary on music and popular culture. The programme - as the title suggests - aims to highlight the impact of other contemporary artists' practices on Harold's own work as an artist and comments on how this relationship fuels envy, admiration and discourse.

The screening room is open Wednesday - Sunday 12-8pm / Ar Agor Dydd Mercher - Dydd Sul 12-8pm

And finally, we have some new work on /seconds, here.

21.3.08 Our exhibition The Institute of Psychoplasmics, featuring our new film Better Future, Wolf-Shaped, opens at The Pump House Gallery on the 8th of April, details below:

THE INSTITUTE OF PSYCHOPLASMICS

a.a.s. / Insectoid / Diann Bauer / Amanda Beech / Mikko Canini / Seth Coston / Rod Dickinson / Pil and Galia Kollectiv / Tai Shani / Francis Upritchard / Roman Vasseur

Curated by Pil and Galia Kollectiv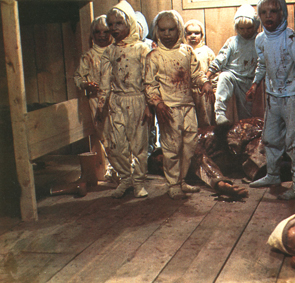 9 April 2008 to 25 May 2008
Preview: Tue 8 April 2008, 6.30 – 8.30pm

Open Wed, Thurs & Sun 11am – 5pm

Fri and Sat 11am – 4pm
Closed Mon and Tues

Pump House Gallery
Battersea Park
London
SW11 4NJ

Map

T: + 44 (0)20 7350 0523
F: +44 (0)20 7228 9062

www.wandsworth.gov.uk/gallery

The Institute of Psychoplasmics is an exhibition about cultic social groupings and how they challenge the integrity of the social body by producing another within it. The show takes its name and inspiration from the eponymous fictional institute in David Cronenberg's 1979 film 'The Brood', in which rage is encouraged to take the form of a cancerous schism within the body. Recreated within the Pump House Gallery, the Institute will investigate cults, brainwashing, war games, rituals and other explorations through new commissioned work including videos, paintings, sculptures, sound and object based installations.

The Institute of Psychoplasmics will also be accompanied by an offsite evening of live art on the 8th of May at Shoreditch Town Hall (tickets £4 via PayPal to psychoplasmics@yahoo.co.uk or from the Pump House Gallery; £5 on the door). Tai Shani's one-off performance Empire and Daughter Isotope will feature epic prog band Guapo and electroclash diva Angie Reed . Cannibalizing pulp film and fiction through black magic cult rituals, a Mini Mouse anti-sacrifice of twelve virgins is crowned by five tableaux of notorious Satanist Anton Lavey posing in nudist magazine Jaybird. Meanwhile performance collective Insectoid's hive also colonise the stage and perform their own entomological rites, exploring insect behaviour to produce exoskeletal sounds.

Accompanying the exhibition will be a 112 page hardcover publication with texts and stories by Suhail Malik, Amanda Beech, Pil and Galia Kollectiv, Gilad Elbom, Tom McCarthy, Emily McMehen, Travis Jeppesen and a pop up artwork by Diann Bauer , £15 via PayPal to psychoplasmics@yahoo.co.uk or from the Pump House Gallery. The book, funded by Outset, will be launched on the 26 of April with a discussion panel with Suhail Malik, Amanda Beech, Roman Vasseur and Pil and Galia Kollectiv , followed by a demonstration of Guy Debord's strategy board game by Class Wargames with Rod Dickinson.

Also, another Ranters' Cafe is coming up:
Ranters' Cafe
Wednesday 02 April, 7.00 - 8.00pm
Admission free
'Too Theatrical':
Should artists value authenticity and spontaneity over exaggeration and virtuosity?
Join artists, critics and curators as they discuss the merits of the staged, the improvised and the deskilled. Come to spectate, debate and have a beer in the Café.
Speakers:
Lois Keidan
Pil & Galia Kollectiv
Seth Kriebel
Sally O'Reilly
Camden Arts Centre
Arkwright Road
London NW3 6DG
T: 020 7472 5500
www.camdenartscentre.org
5.3.08 Kollectiv/Gelbart collaboration record launch and artist talk in Berlin on Saturday 15/03/08:
>Ard Bia Berlin
presents
economic thought projects
Launch:15/03/08
Stephen Brandes, Lorraine Brennan, Nina Canell, Gelbart, Jo McGonigal, Isabel Nolan, Si Schroeder, Pil and Galia Kollectiv, Robin Watkins,The Walter Smith Project
Exhibition/ Stephan Brandes, Lorraine Brennan, Russell Hart, Jo Mc Gonigal, Isabel Nolan, Pil and Galia Kollectiv
15 - 29/03/08 Opening 16.00, 15/03/08
Artist Talk/ Pil and Galia Kollectiv
15.00, 15/03/08
Music event/ Gelbart, The Walter Smith Project
22.00,15/03/08 at Ausland, Lychener Str. 60, 10437, Berlin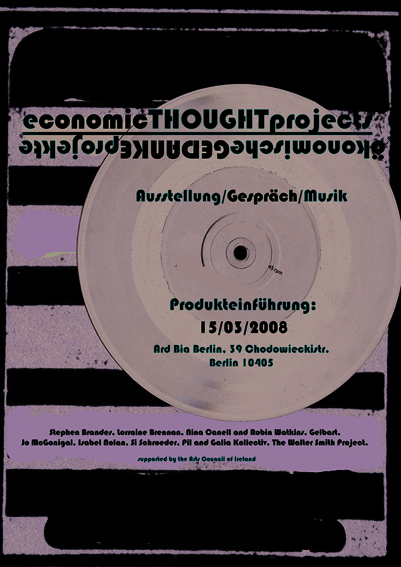 Economic Thought Projects is a DIY independent record label set up to investigate collaborative and multidisciplinary practice by Irish based curator Russell Hart in 2006. Hart invited a group of ten artists and musicians to collaborate on the design, content and sounds of a series of 7" records. A lengthy process of discussion has resulted in a diverse range of responses. The project launch in three parts; exhibition, talk, music, will explore these separate aspects.
Ard Bia 's new satellite space located in Berlin, incorporates a residency program and exhibition space with a mission to cultivate research, exchange and experimentation in the contemporary visual arts field, it is aimed at promoting Irish artists in an international context.
www.economicthoughtprojects.com
Ard Bia Berlin 39 Chodowieckistr.
+49 (0) 30 486 2537 Berlin 10405/Germany.
+49 (0) 175 781 2741 www.ardbiaberlin.com
24.1.08 New film Better Future, Wolf-Shaped, will be screened at the Whitechapel Gallery as part of The Sensible Stage:
Thu 28 February, 7.30pm
New Work UK: Curated by Bridget Crone
film programme
New Work UK presents the best of British film and video. Following and open call for curatorial proposals, Bridget Crone's programme was chosen from a diverse number projects to be realised as the next in our series of screenings.
featuring Mikko Canini, Lucienne Cole, Sebastian Buerkner, Louisa Fairclough, Clare Gasson, Pil and Galia Kollectiv, Gail Pickering
The Sensible Stage explores the idea of staging. Throughout the programme there is a play between the staging of the self and staging as a theatrical device. The Sensible Stage takes its title from Jacques Rancière's 'common sensorium', in order to explore the idea of the 'stage of the sensible'; that is, the staging of a common 'moment'. Using the real and metaphorical frames of the stage and the camera, The Sensible Stage treads the ground between the possibility and impossibility of this 'common moment'. Blurring the frame of the stage and the frame of the camera opens up questions around participation and spectatorship as the immediacy of the live experience is restaged. In some works, the restaging of historical and avant-garde references acts to provide a stop point within the constant flow of information. And in others, there is a framing (or staging) of a quiet or personal moment that places the viewer in a very particular relationship with the camera.
For further info:
http://www.mediaartbath.org.uk/intro.php
http://www.whitechapel.org/content.php?page_id=4170
£5
Free for Whitechapel Patrons and Associates
Booking essential
Also, The Future for Less will be screened (on the same night!) at:
Damn! I Wish I'd Done That!! Artist's Works I Wish I'd Made

Thursday 28th February at 7pm
Artists' film and video selected and introduced by Harold Offeh
Featuring works from by

Olaf Breuning
Pipilotti Rist
Doug Fishbone
Benny Nemerofsky Ramsey
Ming Wong
Mark Aerial Waller
Pil and Galia Kollectiv
Anu Pennanen
Esra Ersen

At 176 Gallery, Zabludowicz Art Projects
176 Prince of Wales Road
London NW5 3PT, UK
T: +44(0)20 7428 8940
F: +44(0)20 7428 8949

www.projectspace176.com

Booking Essential, book online at www.projectspace176.com/events-calendar/

Free to members, Membership and Entry Free to Artists & Arts Professionals
Admission / Annual Membership: £5
Nearest Tube: Chalk Farm.
And we will be participating in Ranters' Cafe, Wednesday 06 February, 7.00 – 8.00pm
Admission free:
The End of The Museum...
Is the dismantling of cultural hierarchies by 'democratic' new media a good thing?
Join artists, critics and curators as they discuss issues of access, quality and the proliferation of content. Come to spectate, debate and have a beer in the Café.
Speakers
JJ Charlesworth
Lisa Le Feuvre
Pil & Galia Kollectiv
Sally O'Reilly
Simon Pope

Camden Arts Centre
Arkwright Road
London NW3 6DG
T: 020 7472 5500
www.camdenartscentre.org
News from 2007 is archived here.
News from 2006 is archived here.
News from 2005 is archived here.