10.10.16 The new WE record, Inside the Black Cube, is out now on square 8" vinyl from Good Job Records: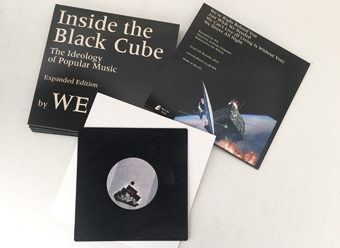 You can listen to it here: http://soundcloud.com/we-are-we/sets/we-inside-the-black-cube
and buy it here: http://goodjobrecords.bigcartel.com/product/gj003-we-inside-the-black-cube-square-10-inch-vinyl.
21.9.16 WE will be launching new record Inside the Black Cube at New River Studios on 14.10.16 with Revenue and Not Sorry. You can pre-order the square 8" vinyl from Good Job Records: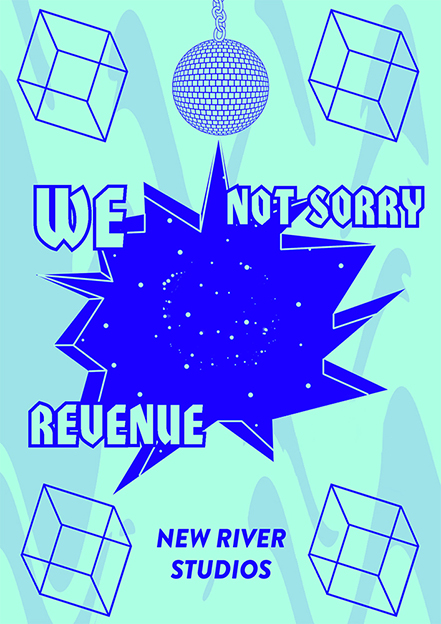 New River Studios
199 Eade Road
London
N4 1DN
£6

DUAL MULTI FORMAT RECORD RELEASE PARTY to celebrate the NEWLY RELEASED WE 8" and also to commemorate THE RELEASE of the REVENUE CASSETTE TAPE

WE
WE do robotic garage-surf-electro-pop covers of pop songs replacing the word "I" with the word "We." That's it. That's literally the only thing they do.
Official RECORD LAUNCH for new square 8" vinyl Inside the White Cube out on GOOD JOB RECORDS.
https://soundcloud.com/we-are-we

REVENUE
REVENUE are a punk musical group formed in 2016 in Catford, London. With members of Jackals, Claw Marks & The Fat White Family, they have played over 3 shows worldwide. Official TAPE LAUNCH for their self-titled, self-duplicated debut EP out now on Whipping Boy Records
https://soundcloud.com/revenueband

NOT SORRY
Spooky Synths from London featuring members of Ravioli Me Away and JOEY FOURR
https://soundcloud.com/ not-sorry-1

New River Studios – 199 Eade Road, N4 1DN
£6
7pm

Venue has flat access to bar and gig room and an accessible toilet.
20.08.16 Our film Blood and Xerox is included in Open Studio: A Conversation on Drawing:
Thursday, August 25th: 6PM to 8PM
Friday, August 26th: 11AM to 6PM
RHA Studios
Royal Hibernian Academy
15 Ely Place, Dublin 2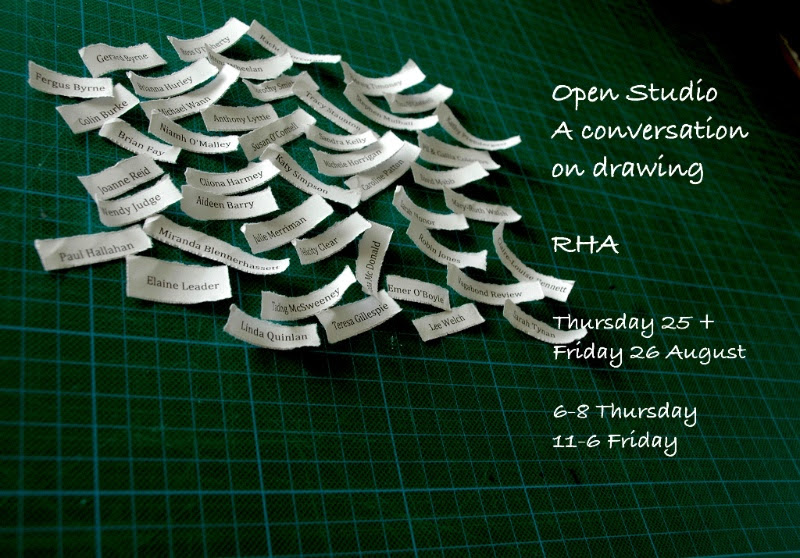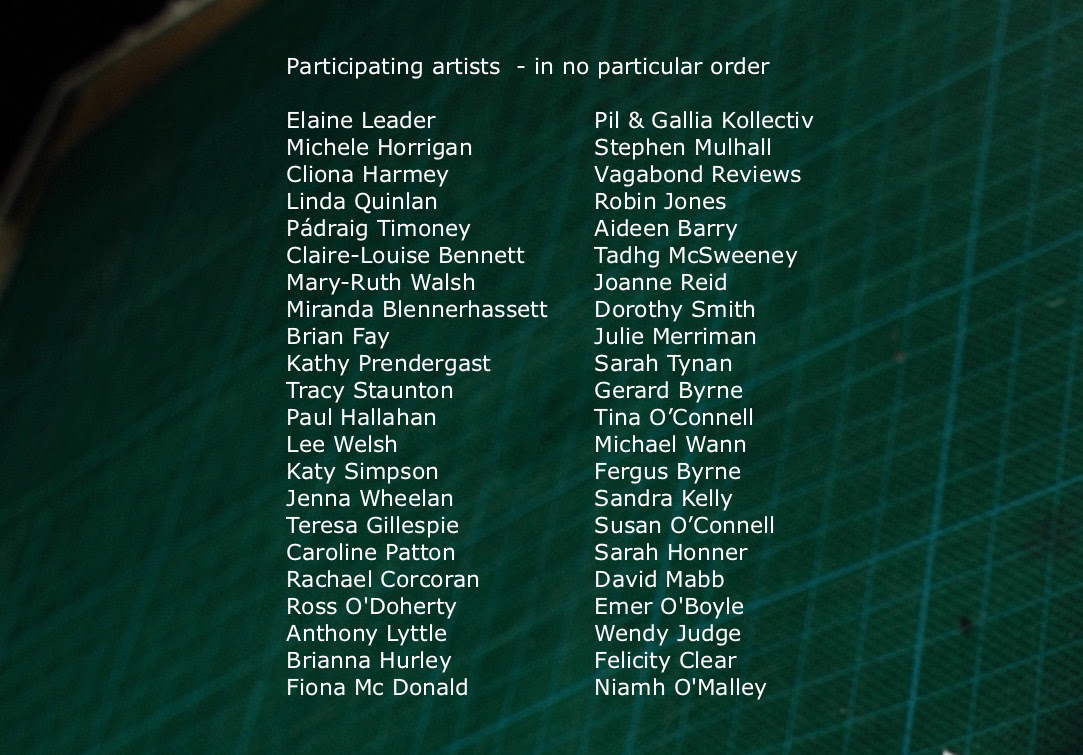 10.7.16 Suck the Living Labour will be showing in Oslo at Ram Gallery, as part of I Won't Do What You Tell Me curated by Kunst Vardo: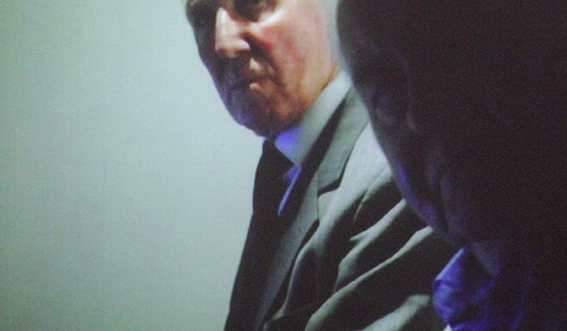 11-28 August
Live Program: 13 August
RAM galleri
Kongens gate 3
0153 Oslo

Artists: Tim Etchells, Marianne Heier, Frans Jacobi, Phillip Henderson, Pil and Galia Kollectiv, Peter Mills, Kate Pendry, Ina Wudtke more to be announced

I won't do what you tell me is an exhibition and series of performances at RAM Galleri curated by Kunst Vardo that respond to the physical repositioning of the gallery in the city of Oslo. The program acts as a commentary on the closing of the space due to invested capital interests. The title of the program is taken from a line of the classic Rage Against the Machine track Killing in the Name. The lyrics are said to be a response to police brutality and the legitimisation of actions taken by people with the authority to wear a badge, nothing more. The program will question the powers of the 1%, ownership and the legitimisation of authority whilst exploring relations between different types of politics and the effects of these politics on individuals. The re-location of the gallery from one part of the city to another is part of an increasing movement of capital development in the city, driven by the Capitalist dream.

The live program brings together artists to respond to the thematic through performance, using the live situation as an opportunity to explore duality and repetition. This time based response allows for an echoing of change as the gallery closes, re-opens, breaks, pauses and re-invents.
Also, UrBororo are next playing at The Royal Standard, Liverpool, where we will also be showing our film, Progress Report from the Strategic Sanctuary for the Destruction of Free Will:
'GETTIN' THE HEART READY'


Opening night 29th July 6-9pm
Open 30th July - 11th September 2016, 12-5pm
Unit 3
Vauxhall Business Centre
131 Vauxhall Road
Liverpool
L3 6BN
Gettin' the Heart Ready is a group exhibition celebrating The Royal Standard's coming of age. The 23 artist-strong retrospective will showcase artists that have been collaboratively nominated by our directors past and present, in recognition of their previous work for The Royal Standard and their career as a practitioner. 10 years will not only mark an impressive milestone for The Royal Standard, but will also see the organisation grow, transform and move into an exciting new era. Gettin' the Heart Ready will give us the chance to look back on The Royal Standard's formative younger years, to show appreciation to those that have contributed to a successful decade, and to look forward and consider the prospects, the potential and the future of The Royal Standard.
Artists: Jo Addison, Jonathan Baldock, David Blandy, Oliver Braid, Joe Crowdy, Jemma Egan, Craig Fisher, Matthew de Kersaint Giraudau, Michelle Hannah, Joe Hamilton, Littlewhitehead, Celia Hempton, Holly Hendry, James Mclardy, Pil and Galia Kollectiv, Jake Laffoley, Liliane Lijn, Jess Flood Paddock, Mike Pratt, Low Profile, Ailie Rutherford, Sam Smith, Dave Sherry.
https://www.facebook.com/events/223150098079538/
And, we are showing the film of Asparagus: A Horticultural Ballet in this group exhibition: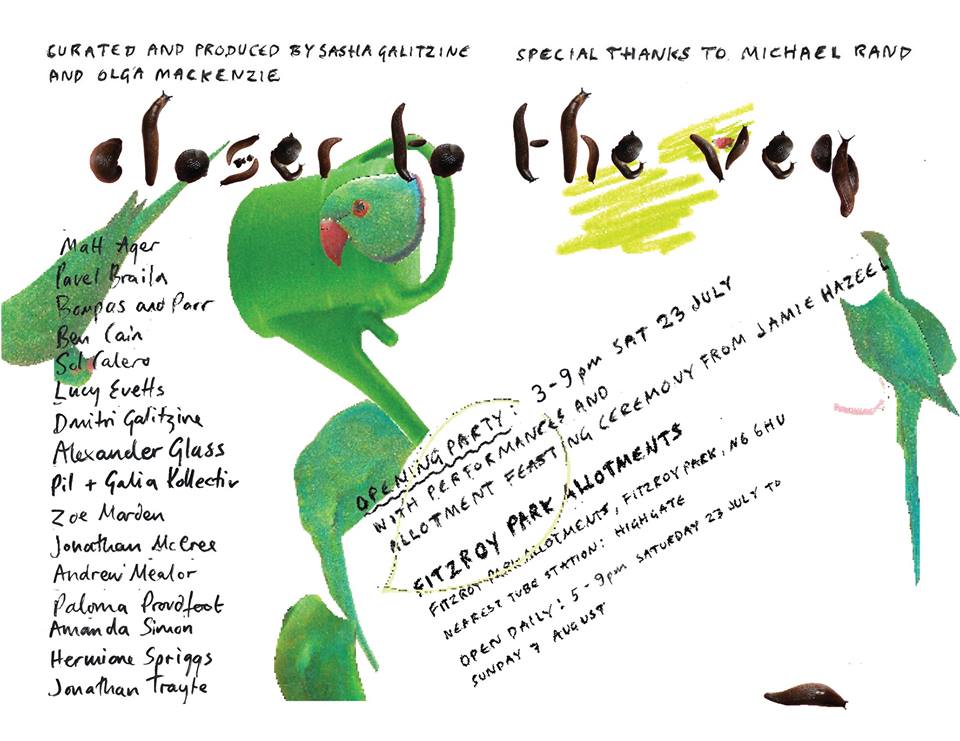 5.6.16 You can catch UrBororo at Grow, Hackney Wick, on 7.7.16:

Featuring:
Fear of Fluffing
Janis Sokolovskis
DJ sets from Dan DADA and Reuben Sutherland
Joel Smith
Pol McLennon
UrBororo
& More
www.GrowHackney.co.uk
Address: Grow, Hackney , 98C Main Yard, Wallis Road, Hackney Wick, E9 5LN. Just two minutes walk from Hackney Wick Overground and 15 minutes walk from Stratford
We will be showing our film and performance, Terminal, at The Nines in Peckham with The Performance Studio on 6.7.16:
Terminal: A Miracle Play with Popular Music from the End of the World is a film and live performance project exploring the politics of post-apocalyptic fiction. A theatrical staging of a morality play for end times and future folk music, it recasts eschatology, or the study of the end of history, as a foundational myth for a future society.

Post-apocalyptic writing and cinema are grounded in an ethos of survivalism. Invoking Rousseau's state of nature, or time before government, these fictions propose violent scenarios in which nuclear holocaust, environmental catastrophe and other disasters generate an individualistic politics of pure pragmatism, negating the possibility of democratic deliberation. Terminal narrates this familiar scenario, but at the same time questions its validity. Terminal imagines artistic expression and new folk traditions for a world to come after the apocalypse.

---
Pil and Galia Kollectiv
are artists, writers and curators working in collaboration. Their work addresses the legacy of modernism and explores avant-garde discourses of the twentieth century and the relationship between art and politics. They have had solo shows at Pump House Gallery, London, Te Tuhi Center for the Arts, New Zealand, S1 Artspace, Sheffield and The Showroom Gallery, London.
They have also presented live work at the 5th Berlin Biennial and the 5 th Montreal Biennial, as well as at Kunsthall Oslo, Arnolfini, Bristol and Late at Tate Britain. They are the directors of artist run project space xero, kline & coma and work as lecturers in Fine Art at the university of Reading and the CASS School of Art. Terminal is a collaboration with a group of London based artists and musicians.
Emily Beber
is a writer and member of WE, with Pil and Galia Kollectiv.
Helen Frosi
is an artist, curator and founder of Soundfjord.
Mike Harvey
is an artist.
Diana Policarpo
is an artist and member of Cabiria.
Peter Simpson
is a musician and member of Circuit Breaker. The project has been supported by Merz Barn Project and Arts Council England and originally co-commissioned by Electra for Drugo More and HKD Teatar, Croatia.
ADMISSION FREE
at The Nines Copeland Estate, 133 Copeland Road, Peckham, SE15 3SN
Entrance also through 133 Peckham Rye Lane, SE15 4ST map
https://www.facebook.com/events/1396432967038689/
---
The project has been supported by Merz Barn Project and Arts Council England and was originally co-commissioned by Electra for Drugo More and HKD Teatar, Croatia.

The Performance Studio is supported using public funding from the National Lottery
through Arts Council England.

Lead supporter for The Performance Studio's 2016 programme: Angela Nikolakopoulou.
The Performance Studio is a production and rehearsal space, set up to provide opportunities for invited artists to experiment with performance over an extended period of time. This small-scale, process-led project presents an open-ended environment for the exploration of ideas with performance centre stage as an artistic discipline.

theperformancestudio.co.uk
WE are next playing at The Last Communion on 2.7.16 at New River Studios: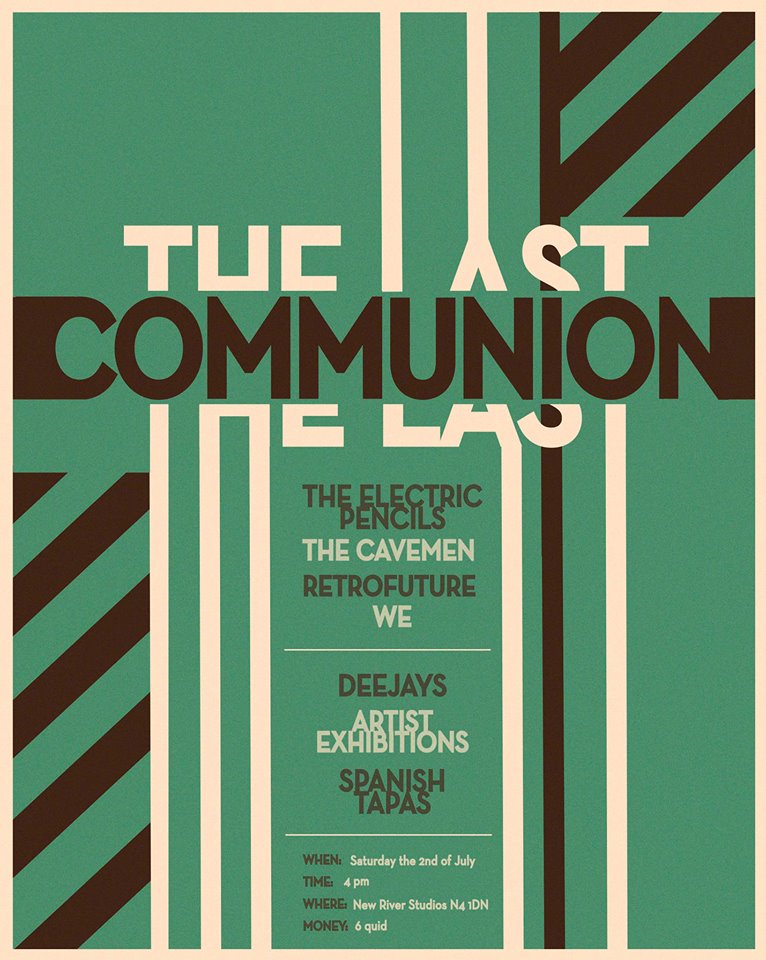 New River Studios
199 Eade Road
London
N4 1DN

£6
1.5.16 UrBororo will be boring your pants off next with Das Boots the Chemist at House of Hysteria - PRESSURE CHAMBER: NEMATODES on 4.6.16:
Pressure Chamber: Nematodes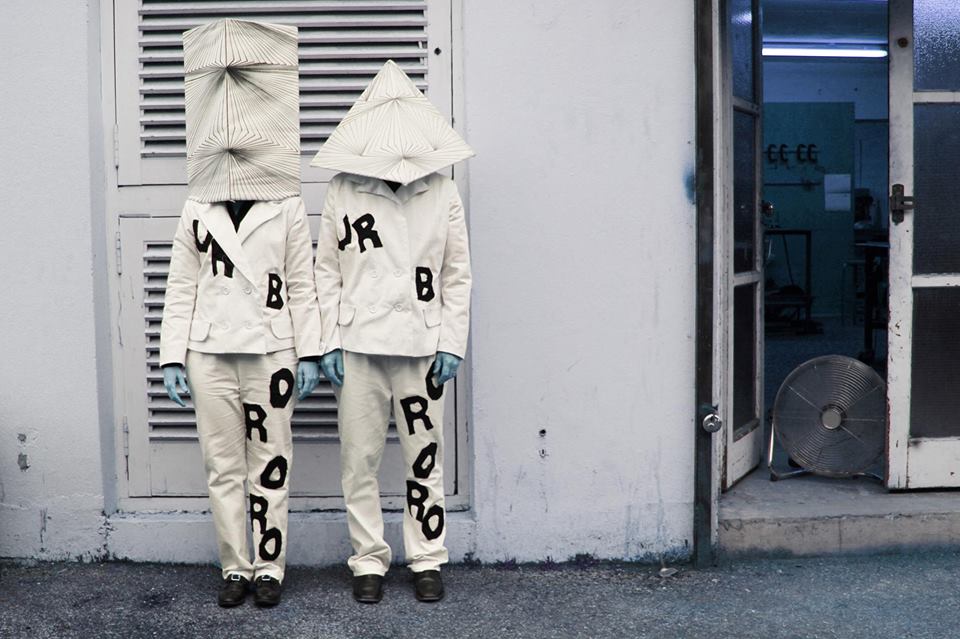 ArtLacuna
48 Falcon Rd
London SW11 2LR

Open: Fri – Sun 11am – 4pm or by appointment

with work by - Lisa Barnard, Kirsten Cooke, Dale Holmes, Tina Jenkins and Mark Nader.

House of Hysteria is excited to house the following programme of events:

Thursday 12.05.16 6pm – 9pm – opening and a performance by Linda Stupart at 7pm

Friday 20.05.16 7pm – a play by Sharon Kivland, ONE OR TWO THINGS THEY KNOW ABOUT HER

Saturday 04.06.16 7pm – 10pm – closing event and a gig with Das Boots The Chemist and UrBororo

Pressure Chamber
Pressure Chambers are artificially constructed hermetic systems that are sealed off and designed to contain substances and reactions at pressures above atmospheric conditions. Sites of forced yet contingent collisions, pressure chambers are self-contained ecologies of power. Due to their hermetic nature they can appear hostile to visitors that require air, space or compass because they are closed systems, 'air-tight'. They can also provide ideal climates for micro-organisms that exist within their architecture: cells that have a tendency towards the alchemical or house serial practices with their own internal logic. These cells are the manufactured raw material of the pressure chambers but also self-propagate and, simultaneously, reconfigure their host. This Pressure Chamber is a bespoke installation that co-constructs an intramural ecology in friction with the existing architecture of ArtLacuna. This built environment is produced through a series of expanded paintings by Dale Holmes and Tina Jenkins, and a versatile structure (Cyborgian Nano-Technic Transformer Unit or CNTU) fabricated by HOH. These discrete structures and interventions are then impinged upon and inhabited, or repurposed, by a programme of performances entitled Nematodes and an accompanying text and sound work Sick_Flower produced by Lisa Barnard.

Nematodes
Nematodes are soil dwelling and thrive within an environment without horizon. They have a parasitical relationship with their hosts but are also an environmentally friendly method of pest control. This can help any system that houses them to defend against foreign bodies, which may enter its ecology. Certain nematodes can feed off their decomposing host or 'house'. Nematodes is a programme of performances, which resituates Pressure Chamber as fluctuating between several spatial-temporal conditions. It consists simultaneously as a series of autonomous structures, a temporary set composed out of tensions between architectural actors and a platform for live, textual and/or sound interventions. These performances are invited to impinge on the space throughout the duration of the exhibition by adding objects to the CNTU.
3.4.16 The next WE show is with the stellar lineup of Ravioli Me Away, Stresovicka Kramle and Figs in Wigs:

21.4.16 at 20:00

New River Studios
199 Eade Road
London
N4 1DN

£5

https://www.facebook.com/events/1206681359341989/
26.3.16 Our exhibition at Pump House Gallery closes 2.4.16 with a live performance by Cabiria to accompany the screening of the film we have been making onsite:
Pump House Gallery invites you to attend the closing event for Pil and Galia Kollectiv's first solo presentation at the gallery, Progress Report from the Strategic Sanctuary for the Destruction of Free Will. Over the course of the exhibition the artists have been shooting and editing a film in the gallery, a draft of which will be screened at this event to a live soundtrack provided by multi-instrumental collective Cabiria.

Based in London, Cabiria is comprised of Diana Policarpo on percussion, Hannah Catherine Jones on theremin and Marina Elderton on electric guitar. Through live improvisation the collective create imaginary landscapes and ethereal atmospheres, weaving sound with layered vocals in a ritualised manner.

Free event, booking advised info@pumphousegallery.org.uk.
20.3.16 More WE this Friday, 25.3.16, with The Knockouts and Shar-Keys at the Stag's Head, Hoxton: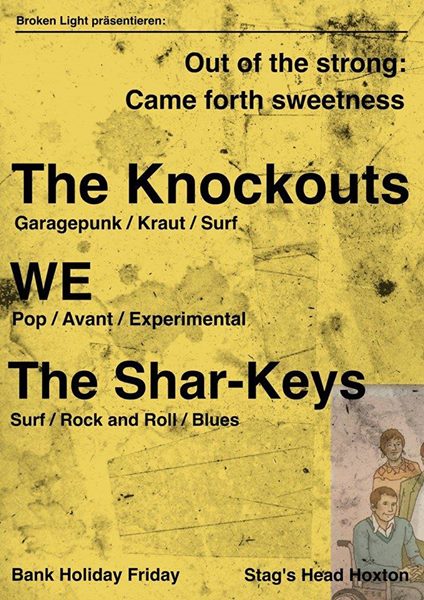 25.3.16 at 19:00
Stag's Head Hoxton
55 Orsman Rd
London N1 5RA
The Knockouts play first gig in London for more than eight years. The fabulous WE are playing. And the splended Shar-Keys too.

4.3.16 WE are playing with Freakapuss on 19.3.16 at Apiary Studios: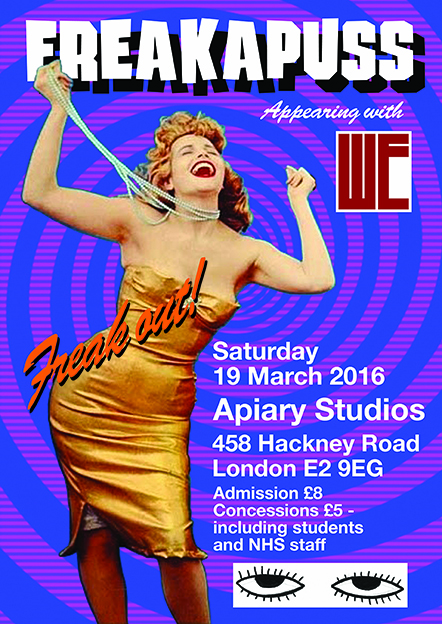 19.3.16 at 20:00
Apiary Studios
458 Hackney Road
London E2 9EG

£8 ENTRY / £5 CONCESSIONS (inc. students and NHS staff)
Freakapuss are a two piece combo featuring former Tronics man Zarjaz on guitar and vocals and Steve Dore on congas and percussion. Freakapuss play a unique style of sawdust floor circus rock n roll. Freakapuss have released a long play album called New 21st Century Dimension on M'lady's Records / Radical Elite Records. More details at http://www.freakapuss.com
WE translate the monstrous, violent, and traumatic, revolutionary process of the abolition of identity into pluralized pop. http://kollectiv.co.uk/WE/
24.2.16 We are showing a new film alongside older work at Close Up for Filmarmalade on 3.3.16:
The Plague and Its Segmentations and Other Films
by Pil and Galia Kollectiv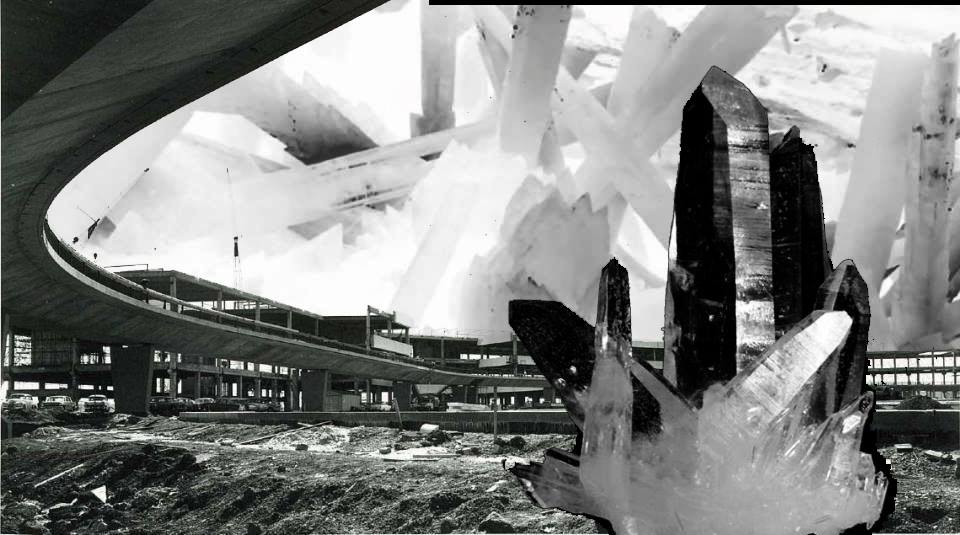 Close-Up Cinema
97 Sclater St.
London E1 6HR
3.3.16 at 20:00
BOX OFFICE: 020 3784 7975 (12:00-21:00 daily)
Tickets: £12 / £10 Conc. / £8 Close-Up Members


Filmarmalade presents a screening of moving image works by Pil and Galia Kollectiv, including the world premiere of The Plague and Its Segmentations, continuing their investigation of fractured temporalities and science fiction narrative to interrogate the present

The first in Filmarmalade / Marmalade Publishers of Visual Theory's new series of screenings at Close-Up

Full programme: bit.ly/1SRgxnd

The Future Trilogy
UK | 2006-09 | 48 min | Colour | Digital

Asparagus: A Horticultural Ballet
UK | 2007 | 30 min | Colour | Digital

Another Proof of the Preceding Theory
UK | 2008 | 15 min | Colour | Digital

We Are Equilibrium
UK | 2008 | 6'30 min | B&W | Digital

The Plague and Its Segmentations
UK | 2016 | 10 min | Colour | Digital

Total duration ca. 130 min with intervals

More info: http:// www.filmarmalade.co.uk

16.2.16 We will be showing new work at the Pump House Gallery on 24.2.16: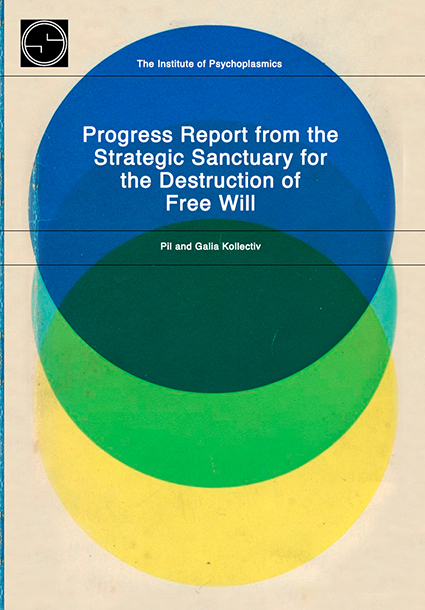 24 February 2016- 4 April 2016
Pump House Gallery
Battersea Park
London
SW11 4NJ
For their first solo exhibition at Pump House Gallery, Pil and Galia Kollectiv will transform the building into a makeshift film set. They will create environments that juxtapose the institutional and the psychedelic, creating a distorted, jagged architecture in which to shoot a film during the gallery's closing hours, screening short missives as the exhibition progresses. The project aims to think through the possibility of collectivity in a society that demands the total management of individual, private experience. Drawing on the ideas of the emancipatory psychedelic culture of the sixties, the anti-psychiatry movement that came with it, and more recent writing on the biopolitics of pharmaceutical control, this new work takes on difficult questions of labour and its intersections with chemical mediations of everyday experience. Through filmed, synchronised movement set within the neo-expressionist, makeshift installation, Pil and Galia ask what happens to the idea of opening the mind and superseding the illusion of the ego in an age when the constant production of the self is an imperative of post-Fordist labour. The exhibition will culminate in a screening of the full film draft accompanied by live music.



6.2.16 We will be screening Suck the Living Labour at Goldsmiths College on 9.2.16:

ARTIST FILM SCREENING:
PATRICK GODDARD & PIL AND GALIA KOLLECTIV
TUESDAY 9 FEBRUARY 2016
6.30PM
GOLDSMITHS COLLEGE, LONDON (ROOM: RHB 137a)

This film screening brings together two works; 'Greater Fool Theory' (35:00 mins, 2015) by Patrick Goddard and 'Suck the Living Labour' (37:45 mins, 2013) by Pil and Galia Kollectiv.

'Greater Fool Theory' is a documentary style film, following the artist's reunion with an old school friend – now a quantitative analyst working in Canary Wharf. Presented through a series of short interviews, what originally begins as a cynical interrogation of modern banking (or as the protagonist describes it: "an edgy banker-bashing artist film") ultimately evolves in a way that calls into question the antagonist's dogmatic approach and naïve presumptions.

"Capital is dead labour, that, vampire-like, only lives by sucking living labour, and lives the more, the more labour it sucks. The time during which the labourer works, is the time during which the capitalist consumes the labour-power he has purchased of him." – Karl Marx

Taking Karl Marx's statement as a departure point, 'Suck the Living Labour' considers the position of young and old workers within a post-Fordist landscape, who are increasingly under pressure to be efficient and resourceful – at any cost. When governmental cutbacks and austerity measures are implemented, and with unemployment rates rising, an extreme alternative solution for the "distillation" of labour must be pursued…
More information here.
1.2.16 WE are playing with Psychic Soviets at DiY Space for London on 5.2.16: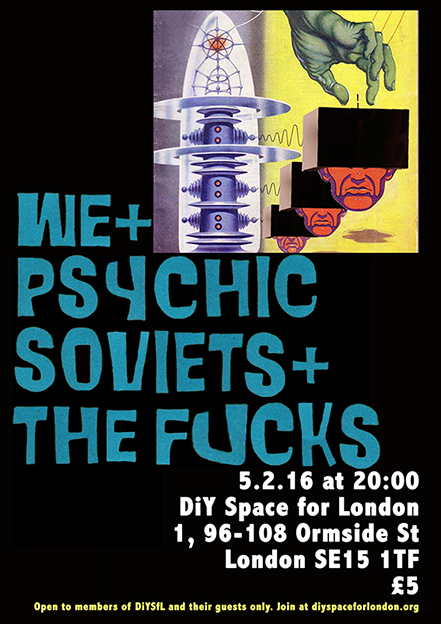 5.2.16 at 20:00
DiY Space for London
1, 96-108 Ormside St
London
SE15 1TF
£5
WE

Borrowing strategies from the likes of the Residents, Devo and Laibach, the pluralised robotic garage surf of WE replaces the individual 'I' with the collective 'WE', transforming tender love songs into threatening revenge messages and military march tunes.
http://kollectiv.co.uk/WE/

PSYCHIC SOVIETS

Glasgow's Psychic Soviets make guitar music made by people who seem to like The Fall a lot. Their analogue kitchenette post punk features quick paced slices of staring, snarling Beefheart flavoured grunge/punk with catching guitar lines and witty lyrics.
https:// psychicsoviets.bandcamp.com /
THE FUCKS
The Fucks were formed at art school by Jemma Freeman and George Lionel Barker as a part of a dare by their housemates. Since then they have played all over Europe and released limited edition EPs on New Cross label The Angular Recording Company and a self released album available now on bandcamp. The Fucks are renowned for their cathartic live performances and heartfelt new wave art pop melodies. They are currently in the process of writing their long awaited second album and have recruited Landshapes drummer Dan Blackett for live performances.
https://soundcloud.com/jemma-freeman1
1.1.16 We shall be appearing as UrBororo first at Nottingham Contemporary on 16.1.16: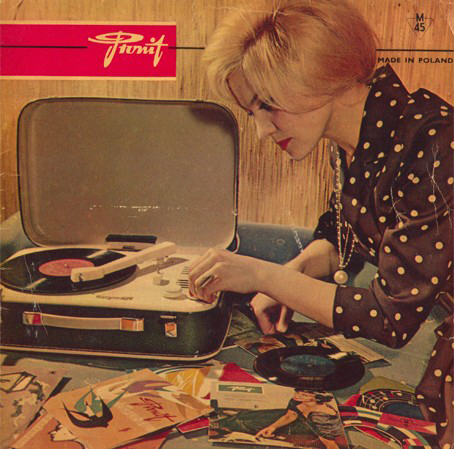 16.1.16, 8.30pm - 11pm
Nottingham Contemporary
Weekday Cross
Nottingham
NG1 2GB
Free
To celebrate the opening weekend of Monuments Should Not Be Trusted and expand on the display of Eastern Bloc 7" records in his exhibition in the Small Collections Room, writer Wayne Burrows will be playing soul, rock, psychedelia, pop, folk and jazz, all drawn from the surprisingly diverse output of the official state record labels of Poland, Czechoslovakia, Hungary, Yugoslavia, Bulgaria, Romania, East Germany and the USSR between the 1960s and early 1980s.
The session will also include a live set from UrBororo, Pil & Galia Kollectiv's new venture into "skewed filing cabinet swamp blues for corporate inflight listening".
https://easternblocsongs.wordpress.com/
Then, come see Urbororo with Beach Bullies and Victor M. Jakeman at New River Studios: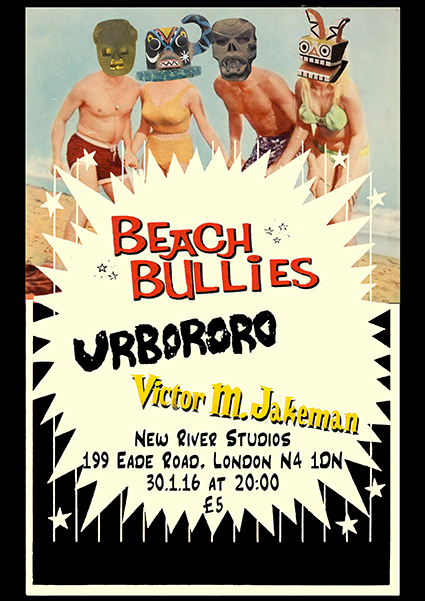 30.1.16 at 20:00

New River Studios
199 Eade Road
London
N4 1DN

£5

THE BEACH BULLIES
Obscurist he-said/she-said bedsit pop by The Beach Bullies, a project of songwriter James A. Smith. The Beach Bullies brief but highly productive life began back in 1980. Armed only with his guitar, a Colorsound drum machine and his flatmate's girlfriend, Jill Fricker, to sing backup vocals, Smith recorded one full-length LP, "We Rule The Universe", featuring alternating vocals, a stripped-down aesthetic and minimal arrangements. A colleague and contemporary of Soft Boys frontman Robyn Hitchcock, Smith intermingles the stripped drum machine melancholy of Young Marble Giants with a more energetic restlessness closer to The Cleaners From Venus and Hitchcock's own work of the period, or more acutely, that of The Vaselines, whose own "fuck off" laissez-faire attitude is comparable. At last re-released by Manufactured Recordings of Brooklyn NY, The Beach Bullies resume live duties this January for the first time since they disbanded.
http:// www.omnianmusicgroup.com/ collections/ manufactured-recordings/ products/ we-rule-the-universe

URBORORO
UrBororo are objectively boring. They also view themselves as boring. UrBororo actually refer to themselves with typically irritating self-deprecation as 'The People Who You Wouldn't Like to be Cornered by at a Party'. They regard most of what they do as a waste of time.
https://soundcloud.com/ urbororo

VICTOR M. JAKEMAN
Anaemic guitar music and weedy synth sounds from the troubadour of Blackheath.
https://soundcloud.com/ victor-m-jakeman
News from 2015 is archived here.
News from 2014 is archived here.
News from 2013 is archived here.
News from 2012 is archived here.
News from 2011 is archived here
News from 2010 is archived here
News from 2009 is archived here.

News from 2008 is archived here.
News from 2007 is archived here.
News from 2006 is archived here.
News from 2005 is archived here.