12.3.21 Join us for a virtual talk at London Metropolitan University on Thu, 18 March 2021, 13:00 – 14:00 GMT.:
Kitchen Table Monumentalism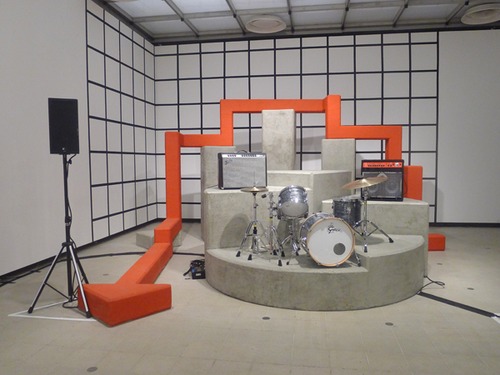 Thursday, 18 March 2021, 13:00 – 14:00 GMT.
Hannah Arendt famously noted the division in classical Greek culture between the private realm, where economic activity resides, and the public realm where political life happens through debate and collective action. COVID-19 has shone a new light on this dichotomy. Much economic production now happens in the privacy of one's home, while politics is reduced to the policing of bodies in public, as economic activity is suspended. This talk will consider the implications of this new realignment of the public and the private for art practice, focusing on the trope of the temporary monument as a stage for public performance.
You can register here.
Pil and Galia Kollectiv are London-based artists, writers and curators working in collaboration. Through their performance, film and sculptural installations, they have been interrogating the organisation of labour and the manifestations of ideology in late capitalism. They have had solo shows at Centre Clark, Montreal, Te Tuhi, New Zealand and Showroom Gallery, London, and presented live work at the Stedelijk Museum, Amsterdam, Berlin Biennial and Kunsthall Oslo. They are the directors of artist run project space xero, kline & coma and work as lecturers in Art at the University of Reading, the Royal College of Art and London Metropolitan University.
London Metropolitan University
The Creative Arts, Cultures and Engagement (CREATURE) brings together interdisciplinary research in the creative arts, its practice, cultural impact and societal engagement. CREATURE hosts a range of disciplines, including art and design practices (creative writing, digital arts, fashion and textile, interior design, music, performance arts, photography, visual arts), histories and visual material culture.
AAD Sessions are a series of public conversations that bring together researchers and practitioners from The School of Art, Architecture and Design and the wider world, to present their research for review amongst peers. The seminars are a forum in which researchers – both traditional and practice-based – can test and present their ideas in conversation with peers and a broader audience. The sessions seek cross-fertilisation of ideas and between disciplines.
Image: Pil and Galia Kollectiv, Concrete Gown for immaterial Flows, 2014.
Also, together with Royal College of Art Contemporary Art Practice students, the State of the Art symposium, featuring Plastique Fantastique (David Burrows and Simon O'Sullivan), as part of the Everything Forever festival on 25.3.21 at 14:00 - 17:00 GMT:
State of the Art Symposium
Thursday 25.3.21 at 14:00 - 17:00 GMT
In 1919, the proto Fascist Italian poet Gabriele D'Annunzio established his own city-state in Rijeka (Croatia) and attempted to organise an alternative 'League of Nations' for oppressed nations.
In 1976, as part of an artist placement negotiated by the Artist Placement Group, John Latham proposed to the Scottish Office to preserve the large industrial spoil tips around Edinburgh as monuments. During his three-month feasibility study, Latham proposed to re-imagine these post-Industrial sites as mythical figurative sculptures.
In 1991, as a response to the Yugoslav civil war, the art collective NSK State declared itself a 'state-in-time' and issued passports and postal stamps. The passports were allegedly used by individuals to escape the siege of Sarajevo in the 1990s, and, more recently, thousands of applications from Nigeria prompted the Slovenian embassy to post a warning regarding the passports on its offical website, stating that 'NSK is merely an art project'.
Many other artistic projects have proposed the creation of speculative governments and government offices, from Ladonia in Sweden where a land art installation became a constitutional monarchy to Larissa Sansour's imagining of a Palestinian space agency.
For State of the Art, performing a fictional takeover of state functions, Contemporary Art Practice students from the Royal College of Art will put forward new policies, strategic goals, languages and new aesthetics to replace the existing official ones. Can health, social care, education or agriculture be rethought using artistic speculation? Might art help us think beyond the narrow horizon of the neoliberal zero-sum game?
This ambitious re-thinking of the state will be publicly delivered in short presentations by representatives from various 'government' offices including the departments for culture, defence, justice and transport. A diplomatic delegation from Plastique Fantastique - David Burrows and Simon O'Sullivan, will respond to the proposals. The general public is also invited to provide feedback.
Register here.
Finally, our essay "The Pamphleteer in the age of the Dark Enlightenment" has been published in this book:
Art, Politics and the Pamphleteer


Art, Politics and the Pamphleteer brings together a collection of text-based and visual essays, commissioned artworks and graphics. This richly illustrated book responds to the concept, aesthetics and function of the political pamphlet. It is diverse in content, interpreting the 'pamphlet' in the broadest terms, and encompassing a number of case studies that offer historical or specific examples of contemporary pamphleteering practice that can be seen to perform 'a clear political implication' or protest. Besides exploring the radical history and diverse cultures of the pamphlet, it also celebrates the rich visual rhetoric, typography and contemporary relevance of the format for both artists and activists.

Contributions include an historical overview and essays by: Andy Abbott, Angeliki Avgitidu, Aziz Choudry and Désirée Rochat, David Murrieta Flores, Michelle Kempson, Pil and Galia Kollectiv, Rachel Schreiber, Jane Tormey, Gillian Whiteley; visual contributions by Gary Anderson and Steven Shakespeare, Ruth Beale, Ami Clarke, Common Culture, Jeremy Deller, Freee, Patrick Goddard, Gavin Grindon, Ferenc Grof, Marc Herbst, Joanne Lee, Josh MacPhee, Manual Labours, Mark McGowan, Minute Works, Chris Morton, radicalreThink, Hester Reeve, Oliver Ressler, Greg Sholette & Christopher Darling, Laura Wild, Andrew Wilson.

As the book was conceived as predominantly visual from the outset, the book concept has been a collaboration with The Little Riot Press (Phil Eastwood and Chris Dunne). Overall, an aesthetic of protest and propaganda was considered integral to the design to reiterate the generally handmade, analogue techniques found in political pamphlets. The Little Riot Press have thus approached the illustration and overall visual cohesion from the perspective of the radical artist pamphleteer. www.thelittleriotpress.com
Buy here.
News from 2020 is archived here.
News from 2019 is archived here.
News from 2018 is archived here.
News from 2017 is archived here.
News from 2016 is archived here.
News from 2015 is archived here.
News from 2014 is archived here.
News from 2013 is archived here.
News from 2012 is archived here.
News from 2011 is archived here
News from 2010 is archived here
News from 2009 is archived here.

News from 2008 is archived here.
News from 2007 is archived here.
News from 2006 is archived here.
News from 2005 is archived here.