15.7.17 We are showingAnother Proof of the Preceding Theory at this film screening:
SPOIL HEAP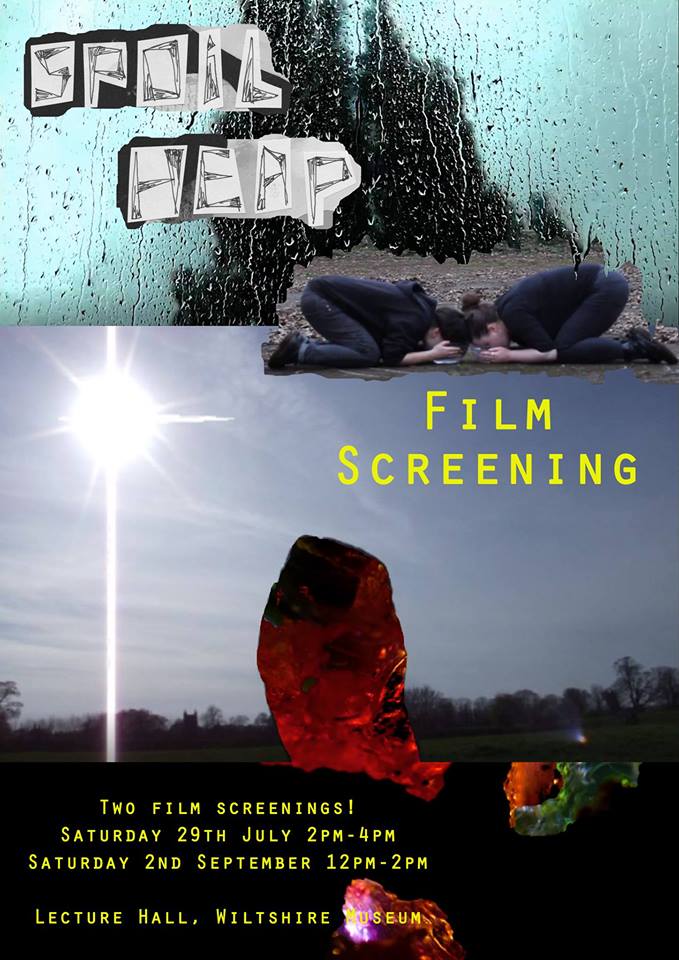 29 July at 14:00–16:00
Wiltshire Museum
41 Long Street
Devizes
SN10 1NS
Usual admission prices apply

Monday to Saturday - 10am to 5pm (last admission 4.30pm)
Sundays - 12 noon to 4pm (last admission 3.30pm)

The film screening will feature a selection of specially curated films ranging from documentary and cine-poems to performative and experimental works. Ideas of identity within specific places of a landscape and the relationship of people, animals and the land are navigated in dialogues of rurality. Archaeological processes are focused upon through the inquiry of excavations present in the Vale of Pewsey, referencing neolithic activities, objects and modern archaeological methods. More experimental works re-appropriate and re-define historical narratives to re-imagine neolithic narratives allowing the opportunity for new questions to emerge.

Films and Artists

Dan Czibulka
'The Barrow – The Home for the Afterlife'

Introductory documentary

Pil and Galia Kollectiv
'Another Proof of the Preceding Theory'

Another Proof of the Preceding Theory was produced as part of a residency run by Artists in Archeology in conjunction with the Stonehenge Riverside project. The film explores the relationship between science, work and ritual, imagining archaeology as a future cult. As two robed disciples stray off from the dig, they are drawn to the drone of the stones and proceed to play the henge like a gigantic Theremin. Just as a Theremin is played with the hand interfering in an electric circuit and producing sound without contact, so the stones respond to the choreographed bodily proximity. Finally, one of the two continues alone to the avenue at Avebury, where the magnetic pull of the stones reaches its climax. Shot on VHS, the film features a score by Zuzushi Monkey, with percussion and Theremin sounds mirroring the action. The performers are mostly artists and archaeologists from the art and archaeology teams. The archaeologists were encouraged to perform their normal work in the robes, in an attempt to explore the meeting points of science and ritual and interrogate our relationship to an ultimately unknowable prehistoric past where activities we do not understand are relegated to the realm of religion. Stonehenge has unique acoustic properties, it's large sarsen stones are finely worked on the inside, left rough on the outside, intensifying sound waves within the inner horseshoe, but since their real use, having been built over centuries, remains ambiguous, the film proposes that our attempts to decode them may themselves become encoded in their cumulative meaning for future researchers.

Adam Stead and Ciara Healy
'Hold. Test. Empty. Remove. Repeat.'

'Hold. Test. Empty. Remove. Repeat' is a short collaborative film produced by Ciara Healy and Adam Stead. The film looks at our relationship with agriculture and place and is the result of a 2-year correspondence. Adam's concerns are with the socio-political impacts of in-creased industrialisation and consumerism on agriculture within rural communities in Britain and Ireland. He reflects upon his relationship with the farm he grew up on and its future. Ciara draws attention to the mythologies, histories and ecologies of Place and the impact they have on our sense of belonging. Their correspondence is compiled as a visual dialogue documenting how they attend to the widening gap between the urban, the suburban and the rural, using diverse ecological, agricultural and environmental ways of knowing.

Michael Park
'Phantasie In Stone'

Set among the neolithic stone circles of Avebury, 'Phantasie in Stone' is itself a relic, a composition of images and words that evoke the magic and mystery of these ancient sites. I have tried to create a journey that is non-linear, meandering from one thought to another, inviting connections but always leaving more to play with. These stone circles sit equally amongst the rest of the modern village, with its houses (some of which feature ancient stone), museum, shops, and roads; my response was to create something that reflects this story, where the past and the present are merged, and where life is in a constant state of flux and change.

Holly Shoesmith
'We Made You a Body'

There are two bodies with bowls of water. Into the water they are spitting, they are drinking, they are almost drowning. One says to the other:
"I have a real sense of the below, like-" [BELOW THE WATER]
"Yeah, like something dimensional-"
"Yeah, below the water-"
It is sad because they do not know how to communicate THE BELOW without the use of normative language and yet, THE BELOW is destroyed through normative language because it exists outside of it.

Rachel Garfield
'Deep England'

Deep England is an essay film: an empty swinging treehouse in Wisconsin and an old synagogue in Wolverhampton, now a church are both metaphors to reflect upon the complex justifications and contradictions that is engendered by negotiating one's relationship to place. Drawing from Jonas Mekas' key film Lost, Lost, Lost, the film also references Ingrid Pollard, Shakespear and Zygmunt Bauman as a way of self-orientating in lieu of a stable home.

Dominique Green
'Microbiome'

Photography, film and sculpture have been used to examine both the physical and mental exploration of particular temporal and geographical locations. Through the superimposition of multiple layers of media, illusory dimensions are created, melting into one another in order to manifest and explore new media ecosystems.
Microbiome incorporates sculptural objects and digital imagery to produce a world that hovers between physical and virtual reality. 3D prints, resin and clay sculptures stem from digital recordings of previously existing environments. Digital media is then used to explore physical objects and sculptural forms, examining materiality through various effects and processes.
These objects become alternative micro-landscapes of their own through the combination of artificial, natural and digital materials. Hyper-real environments where all material becomes abstracted from its original context to create new virtual realities entirely removed from their referents in the physical world. A reinvention of matter by exploring the repetition and regeneration of space, thinking about how digital technology can supplement our understanding of the world around us.

Pam Rose Cott and Claire Nolan
'Rambling'

'Rambling' documents in first person perspective using a head cam, my experience as an artist interacting with the scared landscapes of Wiltshire, both during an artist residency at a dig on Marden Henge and the following months revisiting the places I had seen. This footage is accompanied by a conversation recorded by PhD Student Claire Nolan, involving students participating in the artist residency, after completing a mindfulness walk to The Sanctuary and through Avebury Henge. The film documents both collective and personal emotions, stirred up by the marks left on both the landscape and our psyche by ancient people.
10.5.17 We are participating in this exhibition at Two Queens in Leicester, opening 16.6.17:
Medieval-City One
Two Queens
2 Queen Street
Leicester
LE1 1QW

17th June – 2nd September 2017
Private View: 16/06/2017 7:00 pm
Larry Achiampong & David Blandy,
Ashley Holmes,
Georgia Horgan,
Pil and Galia Kollectiv,
Medieval helpdesk (Lara Eggleton & David Steans)
Medieval-City One is a group exhibition and series of events that seeks to think about the future in a Medieval state of mind. Taking its title from Judge Dredd's Mega-City One, the project invites artists to imagine a proposed city state formed from misunderstood and appropriated remnants of the past. Through newly commissioned video and installation works, the contributing artists deal with the constructs of bureaucracy, colonialism, national identity, immigration, ethnicity, posthumanism, the gendered body, and tourism.
The exhibition is an opportunity to re-appraise notions of the Medieval in popular cultural imagination, commonly functioning as an oppressive site for vicarious realities, and instead considering the idea of the Medieval as a 'Middle Age' between what came before and what comes next.
This exhibition is part of a programme of exhibitions and events at Two Queens across 2016-18 kindly supported by public funding from the National Lottery through Arts Council England, Leicester City Council and De Montfort University.
Larry Achiampong, (b.1984, UK), lives and works in London
Recent exhibitions include: 'Histories of a Vanishing Present: A Prologue', The Mistake Room, California (2016) 'The Chimurenga Library: The Pan African Space Station' – The Showroom, London (2015) 'Residual: traces of the black body' – New Art Exchange, Nottingham (2015)
http://www.larryachiampong.co.uk/
David Blandy (b.1976, UK), lives and works in London
Recent exhibitions include: 'Untitled: Art on the conditions of our time', New Art Exchange, Nottingham (2017), 'Public View', Bluecoat Gallery, Liverpool (2017) 'Here Come A new Challenger', Cubitt, London (2016),
http://davidblandy.co.uk/
Ashley Holmes (b.1990, Luton, UK), lives and works in Sheffield.
Recent exhibitions include: 'Shape Up', Losers Gym, Nottingham (2017), 'Dot Dot Dit Dit Dot Dot Dash', Site Gallery, Sheffield (2017), 'Post Digital', No End Gallery, Johannesburg, South Africa (2016)
http://www.ashleyholmes.co.uk/
Georgia Horgan (b. 1991, UK) lives and works in Glasgow
Recent exhibitions include: 'All Whores are Jacobites', Public Exhibitions, London (2017), 'Georgia Horgan & Clunie Reid', Celine, Glasgow (2016) 'Neo-Pagan-Bitch-Witch!', Evelyn Yard, London (2016)
http://georgiahorgan.co.uk/
Pil and Galia Kollectiv (b. Israel) live and work in London
Recent exhibitions include: 'Progress Report from the Strategic Sanctuary for the Destruction of Free Will', Pump House Gallery, London (2016), 'I Won't Do What You Tell Me', Kunst Vardo, Ram Gallery, Oslo (2016), 'Mirrorcity', Hayward Gallery, London (2014)
http://www.kollectiv.co.uk/
Medieval helpdesk (2015 – ongoing) is an art, writing and exhibition project by art historian and writer Lara Eggleton and artist David Steans.
http://www.medievalhelpdesk.co.uk/
Lara Eggleton (b. 1980, St Catharines, Canada) lives and works in Leeds
Recent projects and publications include: 'Postcolonising the Medieval Image', Routledge (2017), 'Corridor8 art writing programme' (2016-18), 'Conscious Coupling', The Double Negative/The Royal Standard (2016), 'The Follies of Youth', Pavilion, Leeds (2015-16).
http://follymatters.co.uk/, http://thought-form.com/
David Steans (b. 1984, Stockport, UK) lives and works in Leeds
Recent exhibitions and events include: 'Crime World', The Tetley, Leeds (2017), 'North by North West Poetry Tour', City Screen, York (2017), 'Mould Map 6 – TERRAFORMERS', Bonington Gallery, Nottingham (2016)
http://www.grinkinginthedraveyard.co.uk/
We are also showingSuck the Living Labour in this exhibition:
There will be nothing left to suck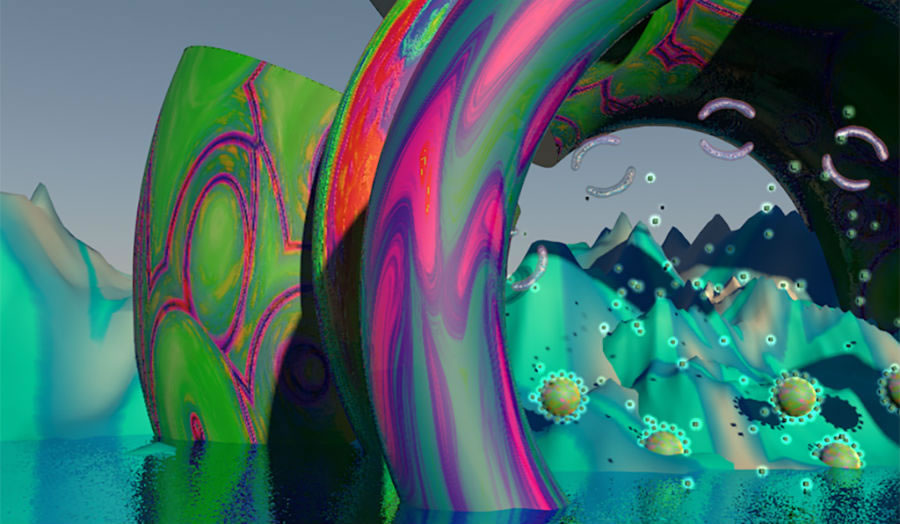 Cass Bank Gallery
59–63 Whitechapel High Street
London
E1 7PF
11th to 26 May 2017
Catherine Biocca / Byzantia Harlow / Pil and Galia Kollectiv /
Katharina Ludwig / Luke Overin / Ricardo Passaporte / Sophie Rogers
'There will be nothing left to suck' is a new exhibition running from 11 to 26 May at the Cass Bank Gallery.
The exhibition has been curated by DOW Collective, a group of London-based curators from the Curating the Contemporary MA, which is run in collaboration between The Cass and the Whitechapel Gallery.
The collective, which includes Angela Pippo, Celine Roblin-Robson, Duarte Sequeira and Despoina Tzanou, has an experimental approach towards curating; thinking about the way art is experienced inside and out of the gallery setting.
Stimulated by the question "What if…?", the exhibition suggests scenarios in the post-present, proposing alternative, unexpected- futures. The show will look to a time where small decentralised communities reclaim the concept of development from larger centralised powers; and reinterpret it through the reappropriation of materials. 'There will be nothing left to suck' sees both national and international artists question the plausibility of a future where development has superseded itself and production has ceased.
Setting the tone and overall narrative, Katharina Ludwig presents a commissioned text to be performed on the opening night; and exist after in the space as a relic, tying in the idea of what is left behind and how we use it. Part-prediction, part-sermon, the text is a warning of what has/is/ will happen.
Luke Overin will also be producing a new commission for the exhibition that will incorporate utilitarian objects he finds abandoned in urban and suburban landscapes. The installation will form a maze-like trajectory largely engaged in ritual, geography and a sense of place - realised and dismantled through photographic, film, installation and mixed media based works.
Byzantia Harlow will focus on the theme of reusing and reproducing by reorganising previous works to create a new piece. Like Overin, she will be exploring the thin edge between the desired and the discarded, the valued and its detritus, through replicating objects of mass production and consumption in combination with digitally appropriated elements to create an imprint of culture.
The six screen video installation Suck the Living Labour by Pil and Galia Kollectiv, from which the name of the show is derived, explores the contradictions of current manufacturing systems. The project, originally commissioned and presented in 2013 by Ort Gallery, refers to the generational conflict and mutual dependency between old and young, past and future.
Similarly, Ricardo Passaporte will be showing a new body of work referencing capitalism by using mass produced branding icons. His work explores corporate branding, which embodies the struggle and proletarian class, and is an identifier for the consumerist experience.
Catherine Biocca's video installation MR PRESIDENT'S RUN RELOADED reflects upon the notion of time in our contemporary condition affected by the constant need for high speed / real time interactions. The work satires the act of chasing a vague purpose and a supposedly better, but unknown, future.
Conversely, Sophie Rogers will offer a potential future in x=0 y=0 z=0, a place waiting for us when we have run out of all natural resources and have to leave Earth. The new location is no longer physical, and it cannot be destroyed, it is forever renewable.
'There will be nothing left to suck' runs from 11 to 26 May at the Cass Bank Gallery, Central House, London Metropolitan University.
And we're making costumes for Zarjaz for this performance at the Horse Hospital in collaboration with Rosie Ridgway: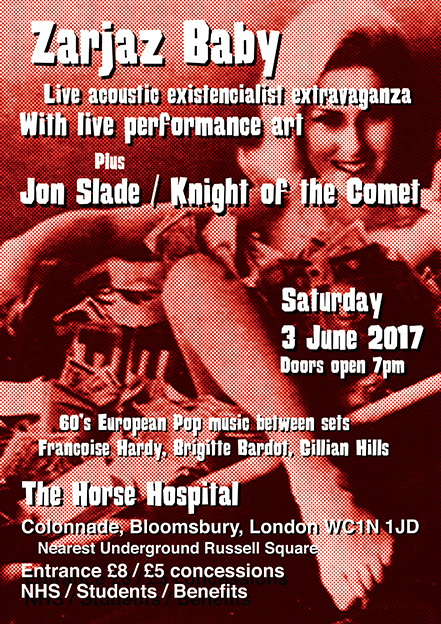 DOORS 7PM TICKETS £8 / £5 CONCESSIONS (NHS, BENEFITS, STUDENTS)
An existentialist extravaganza featuring a solo acoustic set from Zarjaz Baby (Freakapuss and former Tronics). Zarjaz will be performing dark, atmospheric songs, full of imagery, with jazz, blues, early 60's beat and pop influences, with live performance artists, in a style not seen since the basement and candles days of Beatniks.
Also featured on the night is a solo acoustic Love-Rock revival set from Jon Slade / Night of the Comet, incorporating songs from his former bands Huggy Bear and Comet Gain, plus a Fire Department number, some Electric Bull re-workings, as well as songs he wrote with Wolfy Jones.
60's European Pop music in between sets, Francoise Hardy, Brigitte Bardot, Gillian Hills.
Expect sombre girls dressed in black and boys in Breton shirts.
For more information contact incoming@freakapuss.com
13.03.17 WE are playing with Current Affairs, Hausfrau and The Misters of Circe at the Lexington on 14.4.17: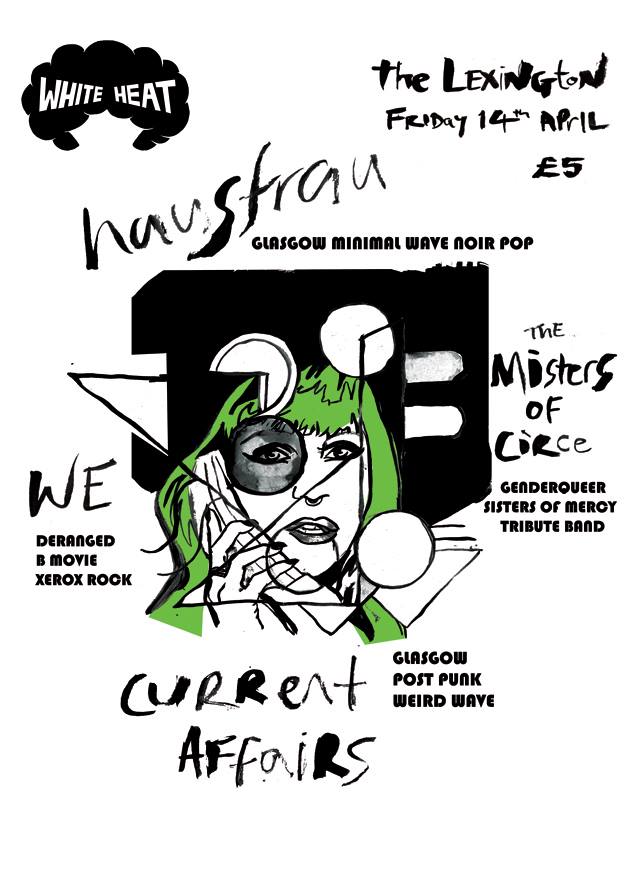 Also, you can listen to us talk about and play songs about work for Radio Quantica here:
News from 2016 is archived here.
News from 2015 is archived here.
News from 2014 is archived here.
News from 2013 is archived here.
News from 2012 is archived here.
News from 2011 is archived here
News from 2010 is archived here
News from 2009 is archived here.

News from 2008 is archived here.
News from 2007 is archived here.
News from 2006 is archived here.
News from 2005 is archived here.