Russian Constructivist theater of the 1920s portrayed "industrial man" as part of a bio-mechanical symbiosis with the factory. For the 5th berlin biennial, Pil and Galia Kollectiv stage a new theatrical piece, a post-Fordist neo-Constructivist mime entitled No Haus Like Bau, which asks what becomes of this overidentification with the system in the wake of industrial manufacture: what would it mean in relation to the flexible ideology of late capitalism? With the boundaries between work and leisure diffused by the employment model of a post-Fordist creative industry, the critique of the mechanization of labor becomes ineffectual.

Marx wrote that revolutionary transformation borrows the slogans and costumes of the past to stage the new world-historical order so that they may part happily from the past. Incorporating a stage set based on flatpack furniture and inspired by Soviet theater design, No Haus Like Bau happily parts with revolution. Featuring eight performers, with a live score by Steven Kado (The Blankket, The Barcelona Pavilion, Blocks Blocks Blocks), the performance juxtaposes Bauhaus dance theory with the story of the privatisation of Russia and elements of Mozart's Magic Flute to forge a new mythology for the DiY consumer and the subject of immaterial labor. Through the performance, the heavy symbolism of state theatre and mass spectacle is reduced to the ergonomics of interior design to form a provisional aesthetic for a new politics.

HAU 1, Stresemannstrasse 29, 10963 Berlin-Kreuzberg, U1/U6 Hallesches Tor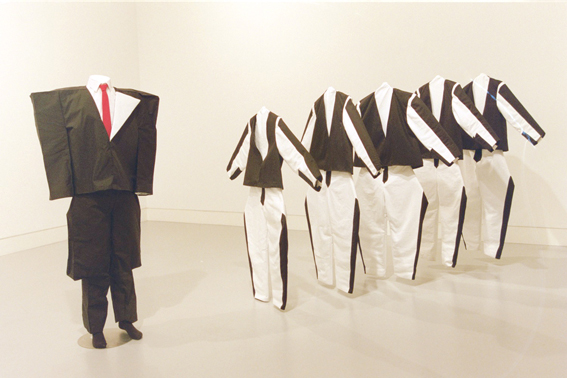 Costumes from No Haus Like Bau installed at Futureblueperfect, Cafe Gallery Projects, London.