DaDaDa: Strategies Against Marketecture
Exhibition Overview
2004
DaDaDa: Strategies Against Marketecture
Oct 21 - Nov 21
Temporary Contemporary
2nd Floor, Atlantic House
The Old Seager Distillery
Deptford Bridge
London SE8 4JT
www.tempcontemp.co.uk
info@tempcontemp.co.uk
With a special live performance by Anat Ben-David .
The exhibition was a unique opportunity to explore the visual aesthetics of resistance. Taking in work that mixes up art, music and design, artists from the US, Canada, France, Germany, Israel, Japan, Finland and the UK, it provided a critical and often playful opposition to contemporary hyper-structured consumer culture. 'DaDaDa: Strategies against Marketecture' deals in appropriation & DIY revolution, craft & hi-tech collage through 2D, video, music and installation pieces that examine the relationship between present technologies and the more traditional cut and paste methods employed by ideologically motivated artists in the twentieth century, a movement from Mertz assemblages to current computer screen manipulations.
As well as a live performance from Anat Ben-David on the opening night, the exhibition was accompanied by a fanzine format catalogue and a limited edition compilation CD of some of the most exciting bands emerging today alongside artists featured in the show.
Artists: Anat Ben-David, Jessica Broas, Chicks on Speed, DAT Politics, Christopher Dobrowolski, Pil and Galia Kollectiv, Mister Ministeck, Noriko Okaku, Erkki Rautio, ROR (Revolutions on Request), Hiraki Sawa, Hideyuki Sawayanagi, Dallas Seitz
The exhibition was reviewed by BBC Collective.
It is also archived on the temporarycontemporary website.
See video documentation here.
Listen to the CD here.
Read more below.
_____________________

Strictly quantified, first by money and then by what might be called 'sociometric units of power', exchange pollutes all our relationships, feelings and thoughts. Where exchange dominates, only things are left, a world plugged into the organisation charts of cybernetic power: the world of reification. Yet this world is also, paradoxically, the jumping off point for a total reconstructionof life and thought. A rock bottom on which we can really start to build.
Raoul Vaneigem, The Revolution of Everyday Life
DaDaDa: Strategies Against Marketecture featured local and international artists and took place at Temporary Contemporary Gallery, an artist run space in Deptford, London. The month long show incorporated different approaches to collage and appropriation techniques that related art to popular culture. The art, comprising mainly video and installation pieces, examined the relationship between contemporary technologies and the more traditional cut and paste methods employed by ideologically motivated artists in the twentieth century, a movement from Mertz assemblages to computer screen manipulations. Taking in work from the art and music contexts, as well as crossover projects like Chicks on Speed and DAT Politics, the exhibition underlined the often ignored visual aesthetics of contemporary music groups as well as the influence of (particularly electronic) music on recent examples of collage work and artistic practices.
As art continues to proliferate in the visually saturated world that our consumer culture has created, artists continue to seek strategies of maintaining control over the production of significance in an architecturally hyper-determined Market, or Marketecture. The early experiments of the Twentieth century art movements in subverting the meaning and function of the debris of images and objects have now become almost a prerequisite to art production, almost urged by growing capacities for digital manipulation and appropriation. The cut and paste techno-ideology that creates this meta-historical time-space continuum - from traditional scissors and glue collage and assemblage to software assisted manipulation - not only allows these connections to emerge, but also produces new levels of signification. Turning architecture into archaeology, this practice forms spaces within the construction of the future from which the present can be observed. The exhibition and the opening night event will be accompanied by a magazine format catalogue and a CD containing relevant music and sound pieces from the performing artists and other musicians ( Chicks on Speed, DAT Politics, Patrick Wolf, Les Georges Leningrad and more).
The exhibition is curated by London based artists Pil and Galia Kollectiv , who have worked on several similar projects in the past, incorporating art, music, performance and magazine publishing. Their video animation practice has been accompanied by an ongoing research into the tensions between democracy and fine art, and they are particularly interested in finding contexts for art that traverse the categories of high fine art and popular entertainment.

| | |
| --- | --- |
| Among the international artists that they have invited to participate in the show are ROR (or Revolutions on Request), whose collaborative practice is based on the presentation of artwork made by individual members under the group heading. Using an easily recognisable iconography comprised of everyday signs and technologies, they combine witty sculpture and installation with decorative multiples featuring their distinctive designs. | |
Also from Finland is Erkki Rautio , whose web-based collage invites the viewer to navigate between screen surfaces made up of digitised magazine cut-ups.
| | |
| --- | --- |
| | Berlin based Chicks on Speed are better known for their music, but in fact started as a conceptual art project in which the band existed purely as a virtual entity. Their own collage work has been featured in magazines and shown in galleries around the world, as well as in their own recently published book ( Booth-Clibborn 2004) , and reflects a preoccupation with anthropomorphic mutations. |
Chicks on Speed's activity also extends to a fashion and music label, under which the records of DAT Politics have been released. This French group also makes interactive Flash collage animations, which like their music explore the notions of humour and mechanical motion first suggested by Dada. These films will be shown during the exhibition.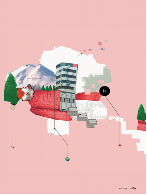 Performing at the private view was longtime Chicks collaborator Anat Ben-David , whose confrontational stage shows and videos question the rhetoric of utopia using her own brand of Popaganda.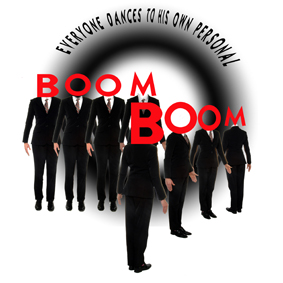 Norbert Bayer, a.k.a. Mister Ministeck lives and works in Berlin. His creations are made from a plastic pixel toy that was common in Germany in the eighties. However, his detailed translations of computer graphics onto the plastic matrix of the Ministeck toy, a realisation of the virtual grid of the screen in three dimensional materials, belie the humble origins of the small rectangular push pins he uses.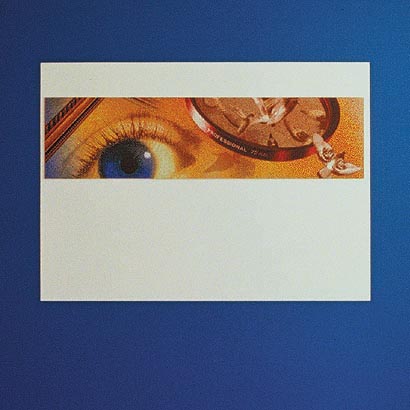 | | |
| --- | --- |
| In Hiraki Sawa's animations, cut up objects and paper models invade the real spaces of domestic and public environments. The materiality of everyday life is activated and liberated from conventionally proscribed usage. | |
Noriko Okaku similarly takes liberties with the physical world, while referencing early cinema and surrealist film. Her Monty Python inspired animations incorporate hand drawn scribbles and fantastical reworkings of video footage.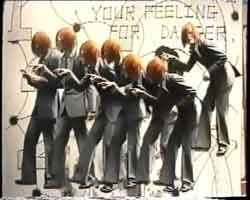 Hideyuki Sawayanagi's sculptural trompe l'oeil creations defamiliarise commonplace objects and images.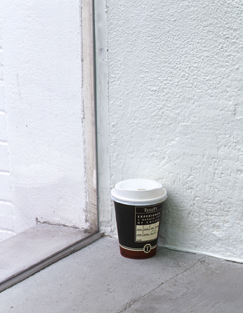 | | |
| --- | --- |
| Dallas Seitz transforms the skeletons of mass produced umbrellas into delicately menacing insect creatures. | |
Jessica Broas' lo-fi reconstructions of mechanical technologies rewrite the achievements of the modern era as bedroom triumphs of imagination over industry. Her cardboard hotrod, crafted from household items like a record, an alarm clock and a bread box, is a tribute to a post-Fordian fantasy of speed and its demise.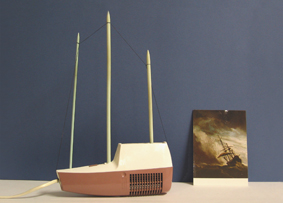 Christopher Dobrowolski's constructions also take on the technological detritus of the twentieth century, rearranging consumer and convenience items into new machines with a mind of their own - fridges that no longer want to chill food, preferring to produce music with the aid of record players, a vacuum cleaner with a penchant for snowy scenes instead of clean carpets.