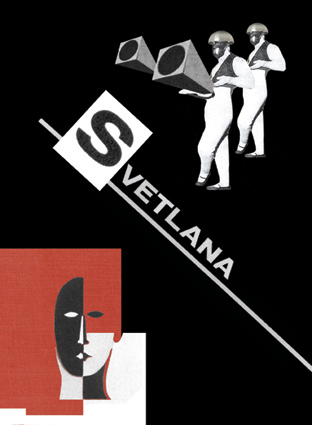 Svetlana is a series of photographs documenting rehearsals for an opera that was never performed. Written by Waw Pierogi, founder of the 1980s group Xex, little is known of the opera, only that it was inspired by Svetlana, a character from one of their songs and the daughter of Stalin, who defected from the Soviet Union twice. A fictional Svetlana and a bogus Leon Theremin - inventor of the eponymous hands-free electronic musical instrument who was later kidnapped by the KGB - inhabit an archive of photographs from a session of stage rehearsals and location shots.
Combining Svetlana's narrative with a conspiracy to create sound weapons, this documentation of theatre workshops, styled after Bauhaus drama class exercises, produces an entirely spurious story of espionage, sonic weaponry and the clash between love and ideology. The performers sport geometric military costumes, brandishing sculptural forms fashioned after the acoustic locators that preceded radar technology. These redundant locators were still kept in use as props, concealing the introduction of radar from the Germans. They perfectly capture the theatricality of military might and suggest the rhetorical force of sound or even the political power of art.
See the photographs, shot by James Barnett, here
Installation shots from S1 Artspace here and from Tatty Devine here.
Read reviews here:
Soutar, Ian, "Xex-Rated Operatics",The Sheffield Telegraph, 2008
Clark, Robert, "Pil & Galia Kollectiv", The Guardian, 2008
Coburn, Tyler, "Viva Svetlana!", Rhizome, 2008
Svetlana was originally produced as part of a residency at S1 Artspace, Sheffield, and was later shown at Tatty Devine, alongside a special capsule collection of jewellery made by Tatty Devine.